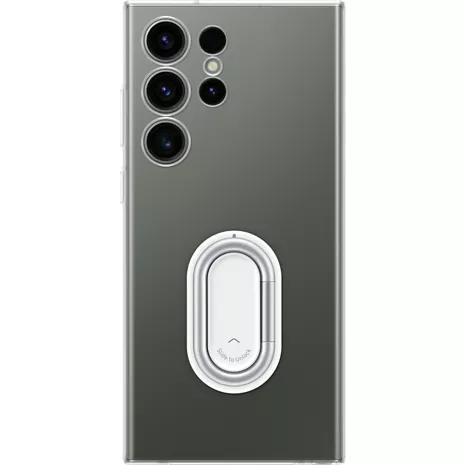 This item is online only.
Free returns within 30 days.Details
Get more use out of your Clear Gadget Case for Galaxy S23 Ultra with a variety of detachable accessories. Simply attach the accessory you need, and remove it when you're done — making your case the ultimate life hack. You can use the Clear Gadget Case to get a more secure hold of your phone or as a sturdy kickstand for hands-free viewing. The external appearance of your phone will stay intact under the transparent case thanks to a special coating applied to both the inner and outer surfaces. The Clear Gadget Case provides the simplest way to change handy equipment. Easily attach and detach a variety of accessories at a moment's notice to fit your needs.¹

¹ Additional attachments sold separately. Products may vary by carrier and retailer.

Reviews
14% of reviewers recommend this product.
Good but not great sssss
just my 2 cents . 1 day ago
Overall this case isn't terrible. I dropped my phone several times and it was protected. My main complaints are that the case is incredibly stiff and difficult to remove. The other is the ring holder. While it's cool that it swivels so you can prop it up (in theory) horizontally and vertically, it doesn't actually work. It is out of balance and in my case, if you attempt to prop it up vertically your phone will just just face plant every single time. Hope they fix this issue, cause overall the ring grip itself feels sturdy, but not implemented well enough to be functional in its intended purpose. I've also yet to see any other advertised attachments available to actually purchase. Won't recommend until it is improved.