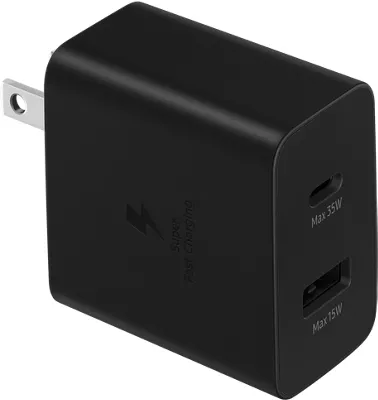 Keep your devices fully charged with the Fast Charging Wall Charger 35W Duo. This compact, portable wall charger features USB-C and USB-A charging ports for simultaneous high-powered charging.³ Super-fast charging¹ works with a wide range of tech essentials so you can keep all your devices powered up when you need them.² Charging cable not included.

¹Super Fast Charging (SFC) is Samsung's fast charging method supported for Galaxy Notes (Note10 and higher), Galaxy S series(S10 5G and higher), and other SFC capable devices such as iPhones (iPhone 8 or higher). Adaptive Fast Charging (AFC) is fast charging protocol for Samsung devices. Fast charging claim based on Samsung internal testing; remove cases/covers for best results.
²35W charging is reserved for single-charging PCs only. For mobile phones, tablets, and other compatible devices, charging rates may vary depending on device types as well as the number of devices being charged simultaneously.
³Power outputs for a single versus multiple devices vary as follows: Up to 35W when charging a single PC device under PD 3.0 and SFC (Super Fast Charging) conditions with USB-C. Up to 15W when charging a single device under AFC condition with USB-A. Up to 20W when charging multiple devices under PD 3.0 with USB-C. Up to 15W when charging multiple devices under AFC condition with USB-A.
Reviews
32 reviews
of reviewers recommend this product.
It's an okay charger
Yes, I'd recommend this product.
I bought this so that I could charge both my phone and my daughter's tablet. I quickly realized it only comes with a block, but no cable. So I had to find another cable to use. When I plugged both devices in, my phone started charging, but not the tablet. I thought maybe I misunderstood, and maybe could only charge one at a time. I swapped the cables, and both started charging. So, I don't know which one was which, but only one slot is able to charge the tablet.