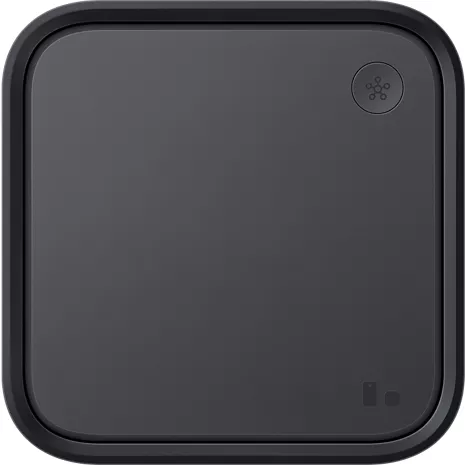 Price
$59.99
Pricing reflects 25% savings.Details
Overview tab selected 1 of 4
Overview Section Start
SmartThings Station with Power Adapter is designed to make your day and night run smoothly with smart features, automated experiences and convenient control of your home.¹

Set it down for super-fast charging.
With Super Fast Wireless Charging, SmartThings Station will charge your compatible phone in no time.²

Link your hub through a pop-up on your SmartThings app, then connect your devices seamlessly with QR scanning.³ Preset your devices on the SmartThings app, and now you're ready to customize your smart home setup to perfection.

Don't worry, you'll find it.
Tag your devices with SmartThings Find to know where they are, whether inside or outside your home.4 Double-tap the Smart Button to make your phone start ringing, and easily track it down.5 Get notified once a SmartTag is detected near, or even far away from your SmartThings Station. You can also check to see if you've left your Galaxy Buds or another item with a SmartTag back at home.6

Reimagine your home life.
Live each day how you like to by connecting your devices, controlling them remotely and personalizing each room and device to run at their full potential. SmartThings Station helps you live your ideal lifestyle and home setup.7

Optimize your day with a button.
Tap, double-tap or hold the Smart Button to control your smart home appliances with personalized functions.8

Charge to activate the night.
When wireless charging is detected, SmartThings Station will make your room comfortable to get you ready for a restful night. Simply set your phone down on the charger and know that your doors are locked, lights are out, temperature is set and more.9

Empower your devices. Enrich your lifestyle.
Fully immerse yourself in your work, games and content knowing your home IoT can be controlled through your SmartThings Station.

Powerful charger. Intelligent control hub.
SmartThings Station's clean design makes it seamless in any room. It's also packed with convenience and performance, including Direct Air Cooling, a USB-C port, Smart Button, Reset Key and more.

¹ Products sold separately.
² 15W Super Fast Wireless Charging requires Super Fast Charging-capable device; included 25W or above power adapter is required. Super Fast Wireless Charging speed depends on battery level and other factors; use only Samsung-approved chargers and cables; do not use any worn or damaged chargers or cables; incompatible charger or cable can cause serious injuries or damage to your device.
³ A Wi-Fi or LTE network connection is required to download the free SmartThings app on a smartphone or tablet on Android and iOS devices. Refer to https://www.smartthings.com/products to find brands compatible with SmartThings.
4 SmartThings Find app compatible with Galaxy phones, Buds, Watches and SmartTag products.
5 A Wi-Fi or LTE network connection is required to download the free SmartThings Find app on a smartphone or tablet.
6 Bluetooth connection required among SmartThings Station, SmartTag and your phone; SmartTag must be registered on SmartThings Find through a Samsung account; Galaxy SmartTags have a Bluetooth range of up to 120m; obstacles may reduce accuracy. Products sold separately.
7 Smart devices compatible with SmartThings Station sold separately and require setup on the SmartThings app.
8 Button-activated actions require a preset on the SmartThings app.
9 Smart devices compatible with SmartThings Station sold separately and require setup on the SmartThings app.

Reviews
0% of reviewers recommend this product.
Disappointed
I purchased it thinking it was going to charge my phone with my phone case on, it won't charge it unless I take apart my phone case which is a waste of time for me. I tried to return it seems how its brand new and I can't use it but because I didn't have the box that it came in, they wont let me return it. I have the receipt, the instructions and everything that came with it but they won't accept unless I have the box it goes in. Guess I'm more disappointed than anything.
Samsung - 4 months ago
Hey there Kristen, thank you for finding the available time out of your lively day to share your sentiments with us about your Samsung SmartThings Stations with Power Adapter. We appreciate your transparency as we strive in providing the best products with superior functionality on the market to our customers while we remain committed to constant innovation. Our goal is for our customers to feel like they are having the most marvelous experiences when using our products. Please feel free to reach out to Samsung Support if you would like to share any additional feedback without regarding your purchase. Thank you for being a devoted Samsung customer. - Debra
Set up sucks
Set up gone wrong . 5 months ago
Got and plug it in then realized all the other steps you have to go thru
Samsung - 5 months ago
Greetings Set, thank you for finding the unobstructed time out of your bustling day to share your sentiments with us about your Samsung SmartThings Station with Power Adapter. We value your honesty as we improve the design and functionality of our product line while we stay committed to constant innovation. Our goal is for our customers to feel like they are having the most amazing experiences when using our products. Without having more information about what you are experiencing with the set-up of your SmartThings Station, I recommend reaching out to Samsung Support for further assistance when it is most convenient for you. Thank you for being a dedicated Samsung customer. - Debra