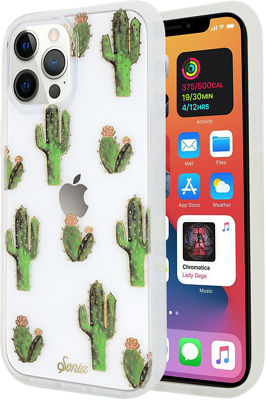 Add a fun, fashionable twist to your device with the Case for iPhone 12 Pro Max. This sleek, lightweight case provides sturdy, 360-degree protection while dressing your phone in colorful prints and designs. The grooved, impact-resistant corners and shock-absorbent sides protect your phone from up to 10 feet of drops and bumps.¹ The scratch-resistant protective coating keeps your case looking like new. And, it has an antimicrobial protective coating to help keep your phone clean.

¹Based on independent testing.
Reviews
3 reviews
of reviewers recommend this product.
Love the case - but the edges turned yellow
I've had this case since Dec 2020 and I absolutely love the cactus print - it's so cute and I haven't seen anything like it! The down side is the area where you hold it changes color and I'm CONSTANTLY cleaning my case. I get that the oils from your hands/dirty hands with change something but my phone doesn't stay dirty. If the edges were a green or an actual color this would keep it looking better even if the color changed slightly.
Oh no! We're sorry we missed the mark. We're always looking to improve our products, so we're taking your review seriously to improve this product for the future. Thank you for your review!
Cute cactus case!
Yes, I'd recommend this product.
I LOVE this case. So cute and protects my phone. It's a hard cover with gel/silicone like edges. I have dropped my phone twice since having it and i have no breaks or cracks. It matches my vibe in CA with the cactuses too and matches my nails lol
Thank you for the review and your recent support of Sonix! We appreciate the feedback and all the love!