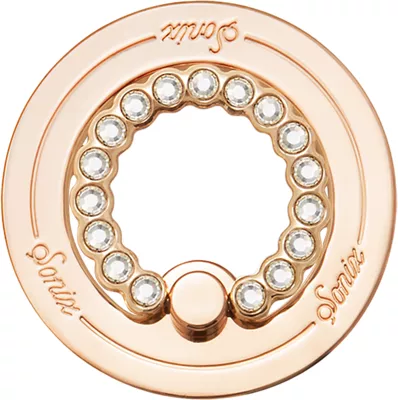 Add a bit of flair to your phone with the Magnetic Link Phone Ring with MagSafe - Gold Rhinestone. This sturdy phone ring features repositionable MagSafe compatible magnets for secure attachment and easy removal – and it works with MagSafe phone cases, too. The ring doubles as a grip or a sturdy kickstand for hands-free viewing. Multiple axles offer 360° rotation for easy use. And, it's self-aligning for precise alignment on your device.
Reviews
9 reviews
of reviewers recommend this product.
Didn't Do Any Good
I was really excited about receiving the Sonic Magnetic Link Phone Ring: however, it did stay in place to the back of my phone. It would drop off at particular any point. Now, I have lost it! I have searched for it but I've not located. The magnetic must was a default and definitely a wait of my money.
Horrible!!!!!
Is it beautiful; Yes! Does it stick to the phone; sort of…as long as you do not use it for what it is intended for (one handed use) then it'll be perfect. Try to use it for what it is meant for and it slides just 1mm and BAM! Now you have a broken phone on the ground, but the ring still looks beautiful on your finger! Too bad the ring itself cannot make and receive calls/texts.