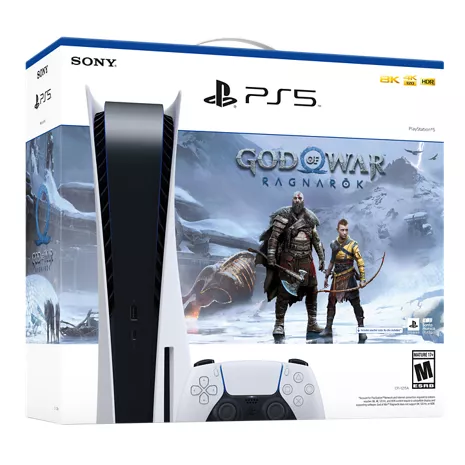 This item is currently only available for Express Pickup. 
Select a store to continue.
Overview tab selected 1 of 4
Overview Section Start
Jump into the latest entry in the God of War series with this game and PlayStation 5 console bundle. Embark on an epic and heartfelt journey as Kratos and Atreus struggle with holding on and letting go. Atreus seeks to further understand the clues left behind by his mother and piece together his prophesied role in the coming war. Meanwhile, Kratos struggles with his son's desire to uncover more about his identity, knowing it will draw them towards the vengeful Aesir. If that happens, they'll be even closer to repeating bloody mistakes of the past.

Together, father and son venture deep into the Nine Realms, while Asgardian forces prepare for war. Along the way, they will explore stunning, mythical landscapes, and face fearsome enemies in the form of Norse gods and monsters.

As the threat of Ragnarök grows ever closer, Kratos and Atreus find themselves faced with a choice: between their own safety or the safety of the realms…

Those Who Break Fate
Atreus hungers for knowledge to help him understand the prophecy of "Loki" and the role he is to play in Ragnarök. Kratos must decide whether he will be chained by the fear of repeating his mistakes or break free of his past to be the father Atreus needs.

Weapons of War
The Leviathan Axe, Blades of Chaos, and Guardian Shield return alongside a host of new abilities for both Kratos and Atreus. As they take on foes throughout the Nine Realms, Kratos' deadly skills will be tested like never before as he fights to protect his family.

Explore the Realms
Journey to dangerous and stunning landscapes while facing a wide variety of enemy creatures, monsters, and Norse gods as Kratos and Atreus search for answers and allies.

DualSense™ wireless controller integration
Feel your journey through the Norse realms, made possible by immersive haptic feedback and adaptive trigger functionality.

Stunning visuals
Switch between full 4K resolution at a targeted 30 frames per second, or dynamic resolution upscaled to 4K at a targeted 60fps.¹ Bask in the beautiful worlds you travel through, brought to life by stunning art direction and arresting attention to detail. Behold enhanced reflections, lighting and shadows, as well as increased geometric detail and enhanced deformable snow.

Fully optimized for 3D audio²
Immerse yourself in the unique soundscapes of the Nine Realms as sounds reverberate and echo throughout the environment. Use highly accurate spatial audio to hear enemies approaching from any direction, including above and below you.

Fast loading via SSD
Return to the action faster than ever; the PS5™ console's high-speed SSD won't leave you waiting long to resurrect from death. Enjoy shortened load times from in-game checkpoints, or when fast traveling.

¹ 4K resolution requires a compatible 4K TV or display.
² 3D audio with stereo headphones (analog or USB)

Reviews
85% of reviewers recommend this product.
The God Of War!
Yes, I'd recommend this product.
The God Of War console is great. I got it for a great deal and the pickup was as smooth as it gets.
Good except them trying to up sale
Yes, I'd recommend this product.
It was great, til I had to "just pick it up" and they tired to up sale me hard. Even when they don't cover the area I live in? Learned that and still kept trying to get me to sign up…I can only say no lithe same way once