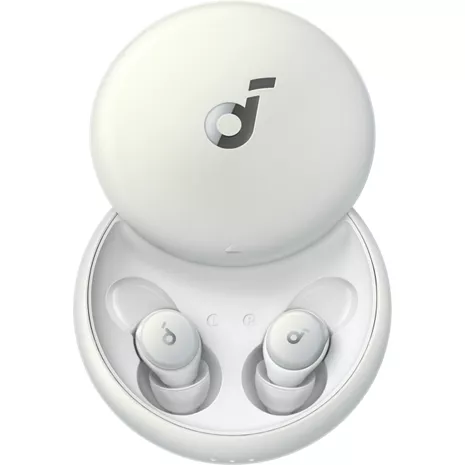 Overview tab selected 1 of 4
Overview Section Start
Block out background noise to help you sleep peacefully with the Soundcore by Anker Sleep A10 True Wireless Earbuds. The noise masking system keeps nighttime disturbances to a minimum. Enhanced passive noise cancelling combines with an advanced active noise masking algorithm and soothing sleep sounds to block out up to 35dB of unwanted noise. Unlimited Audio via Bluetooth and the Soundcore app help keep you immersed in your sleep sounds. And, you can manage your sleep health with sleep monitoring and a personal alarm clock.

Comfortable, even for side sleepers.
The lightweight build keeps your earbuds snug in your ears without protruding. Wear them all night without feeling discomfort.¹

For peaceful sleep.
The 4-Point Noise Masking system features ear-wings and Twin Seal ear tips create a secure seal for noise-blocking. And, Smart Volume Control adjust sleep sounds' volume to mask external noise.

Customized for sleep sounds.
Customized dynamic drivers produce low frequency sound that's 10dB lower than standard. Sleep A10 also enhances white noise and other sleep inducing sounds to help you fall asleep faster.



¹ Using Sleep A10 outdoors may cause unstable performance. Indoor usage ensures peak performance.



Reviews
0% of reviewers recommend this product.
Don't waste your money
These don't stay charged long. It was a complete waste of money.