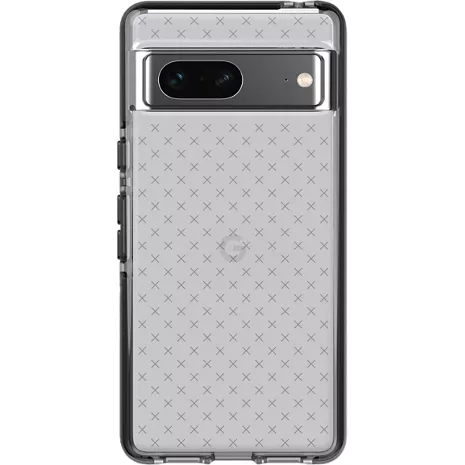 Overview tab selected 1 of 4
Overview Section Start
Protect your phone from drops, bumps and dings with the Evo Check Case for Pixel 7. Made with lightweight materials, this case is easy to keep hold of with a non-slip grip. The signature check pattern has a scratch-resistant design to keep your case looking new. And, mix and match the color of the case with easy-to-apply interchangeable buttons.

Drop-tested protection.
This sturdy case has multi-drop FlexShock protection that shields from drops up to 16 feet.¹ And, it's independently tested to protect your phone drop after drop.

Enhanced camera protection.
Precision engineered to protect your phone's most vulnerable tech, the enhanced camera protection prevents cracks and scratches on your camera lens.

Advanced antimicrobial technology.
Reduce dirt and germs with Tech21's advanced antimicrobial technology. The built-in formula reduces microbes on the case by up to 99.99%.



¹ Based on independent testing.



Reviews
67% of reviewers recommend this product.
Decent case
Decent case that seems to do a good job of protecting my phone in case of drops. A big drawback is that it is a fingerprint magnet. I find myself constantly cleaning it off. Also, this case was really overpriced, but when you buy "in house" you expect to pay more. I wasn't walking out of Verizon with a new phone and no case. I will keep this case for a while and then look for something a little more my style. Verizon's selection at the time of purchase was minimal and this was the best of the bunch.
Works well but not the most rugged
Works well and doesn't increase the size of the phone much which is nice. The buttons work well and they give different colors for you to change them out if you wish. It is not really tough (for example, if you press your fingernail into the back it will leave a small indentation) but protects the phone and the sides (but not the back) are less slick than the phone itself. The opening for the USB-C plug is slightly tight with some of the plugs so you have to make sure it shows that it is charging until you get a feel for pressing it in. The back opening over the camera section is only about 1mm above the camera's surface so you still do have to be careful when placing on it non-smooth surfaces.