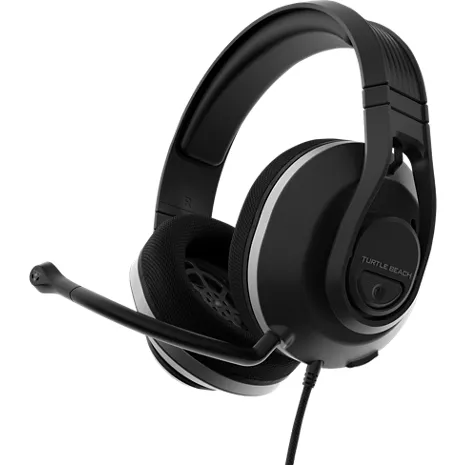 Overview tab selected 1 of 4
Overview Section Start
Level up your gaming experience with the Recon 500 Wired Headset. The durable, metal reinforced design and memory foam air cushions are made for long-term sessions. The 4.3-foot headset cable helps you stay connected comfortably. And, the mute and volume controls make it easy to adjust while keeping your focus on the game.

Stunning sound.
2 60mm Eclipse dual drivers deliver stunning sound. Dedicated woofers and tweeters engineered with AccuTune provide high-quality acoustics.

Removable mic.
The 3.5mm removable TruSpeak noise-cancelling mic delivers clear, pro-level comms so you can keep in touch with your team. And the uni-directional microphone helps eliminate background noise.
Reviews
100% of reviewers recommend this product.
Great
Yes, I'd recommend this product.
[This review was collected as part of a promotion.] My son loves these. He uses them all day long with his friends. I have to pry them off his head at night to get him to go to bed. They don't hurt his ears or anything. They are perfect wonderful head phones.
turtlebeach.com Originally posted on turtlebeach.com
Good, but doesn't stand out
Yes, I'd recommend this product.
[This review was collected as part of a promotion.] I got these headphones to enjoy my gaming experience just a little bit more, but unfortunately, they were very underwhelming. First, they were big enough to fit my head comfortably, however, my husband (who is a BIG gamer) was not able to wear them at all because of the size/shape of his head. He has a wide dome head, and no hair, and was not able to wear this at all. The sound quality in the headphones was good, however nothing exceptional, nothing to make this stand out at all. It really didn't have any noise cancelling properties (that was not advertised with this, so I don't fault them for that, however, I could still hear my kids through the headphones even though they were being quiet) and I could hear everything outside them fine. The mic was actually detachable which was different, but it was cool. It worked fine as well, people were able to hear me clearly with not a ton of background noise. It uses a standard headphone plug in, so it can be used with a ton of different devices if it needed to. These headphones weren't bad, by any means. They worked great and I had no issues with them. However, there's not really anything that makes this headset stand out or sets it apart from other generic headphones in my opinion.
turtlebeach.com Originally posted on turtlebeach.com