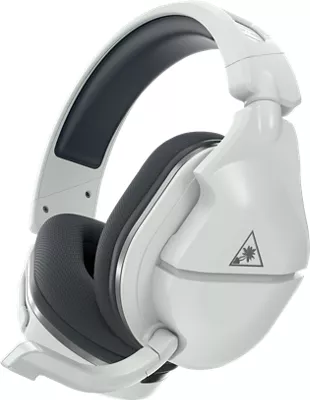 Take your gaming experience to the next level with the Stealth 600 Gen2 PlayStation. This comfortable gaming headset is glasses-friendly to avoid pressure in the sides of your head. Dual 50mm speakers provide pinpoint audio accuracy to immerse you in the experience further. The wireless connection leaves you free to move without getting tangled in wires. And the Gen 2 flip-to-mute mic allows you to stay connected but quickly mute when going AFK.

Superhuman hearing.
Enhance the sounds of enemy footsteps and reloading so you can pick up on all the little details.

Mic monitoring.
Hear and adjust your own voice so that you can make sure you're heard by your team for coordinating your next moves.
Reviews
29 reviews
of reviewers recommend this product.
Incredible sound and compatible with the Switch!
Yes, I'd recommend this product.
[This review was collected as part of a promotion.] This wireless headset by Turtle Beach is the most needed gaming accessory for any gaming family out there and trust me when I say the both the quality and durability of this headset is unquestionable! The sound quality is very, VERY good! And When fully charged the headset lasted well over 72 hours! I was amazed! My son loved how the ear muffs on this Stealth 600 headset rested on his ears he mentioned that it felt like ultra plush pillows laying against his ears, so it's safe to say this headset was made super comfortable and it's also adjustable to fit both adult and small children. I also love how compatible this headset by turtle beach is with other devices. My son uses this headset mainly with his Nintendo switch via the usb Bluetooth transmitter that's also included and connecting it to the switch was as easy as it was connecting it to our PlayStation 4 . Another thing I love about this particular headset is that the mic can be folded up when not in use which helps prevent it for accidental damage and just keeps it out the way if your just using the headset to listen when the mic isn't needed. So If you're looking for an incredible quality, high performing headset that's compatible with Ps4 and other gaming devices, I highly encourage you to add this set to your cart and checkout. PS thank me later .
Works with glasses
Yes, I'd recommend this product.
[This review was collected as part of a promotion.] I wear glasses and this headset does not put too much pressure on them like some other sets do. The Stealth 600 Gen2 paired easily and they have fit on all the heads in my family from my sons to my wife. I like that the mouth piece adjusts and lights up to show me that it is activated so that I do not have to waste as much time trouble shooting when it did not pair.