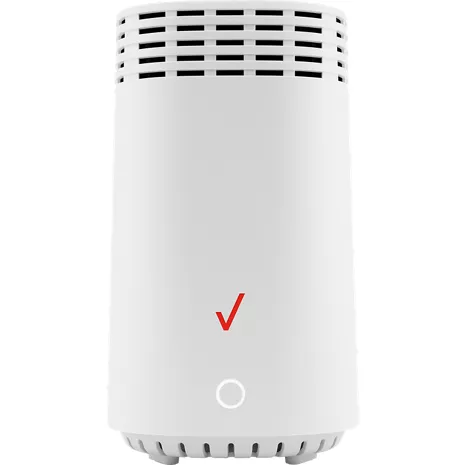 Overview tab selected 1 of 4
Overview Section Start
Extend the range of your Wi-Fi with the E3200 Wi-Fi Extender for 5G Home. Tri-band 4x4 antennas provide a wide and reliable Wi-Fi experience, ideal for larger homes. Dual Gigabit LAN ports allow for both wired and wireless connections. The coax port supports MoCA 2.5 LAN. And, the WPS button makes it easy to connect your devices to the network.

Extend your coverage. The E3200 extender is designed to work with your 5G Home Verizon Internet Gateway to expand the coverage of your Wi-Fi signal.

Optimal Wi-Fi experience.
Wi-Fi 6 gives fast and efficient internet, allowing you to game, stream or video call with peace of mind.

Self-organizing network.
Automatic band steering and access point steering using SON technology ensures your device connects to the best available connection for better performance.
Reviews
27% of reviewers recommend this product.
THEY NEVER SENT IT, NO CANCELATION EMAIL OR BOTHING BAD SERVICE
Verizon has no honor . 8 days ago
Been waiting since November 13th and never received my item , other people got theirs. They canceled me so I'm gonna cancel my company phone plans with them. How you going to make it like I never order
Wifi Extender on Steroids? Worth the obstacle of getting it connected
Yes, I'd recommend this product.
I did not expect a wifi extender to be this impactful to the overall experience when using a 5G router. Let me explain. With 5G, it's important that the main router be located in a window that's closest to where the tower serving your address is located. The router will likely work fine in other areas, but this is a best practice in order to get the fastest speeds with the lowest latency. Now, with this wifi extender, I didn't have to compromise my wifi range in order to maximize the 5G signal. My main internet gateway router is placed on my main floor next to a window, and this wifi extender is placed upstairs on the opposite side of the home. I tried 2-3 different locations/setups, moving both the extender and the router, before making this final decision. What I didn't expect was how my overall internet speeds seem to be higher since this install. It's almost like my router doesn't need to work as hard and it focuses more on a strong 5G signal and less on wifi coverage. I'm going on week 3 since my initial install. The setup was more difficult than I would have expected. I ended up going into the internet gateway router settings to get this device to pair. The instructions didn't match up with exactly what I was experiencing, but this seemed to be more of an issue with my router than the wifi extender. All in all, this wifi extender is not your typical wifi extender. For $200, I'd buy this over a mesh wifi system if you're using Verizon's 5G internet service.