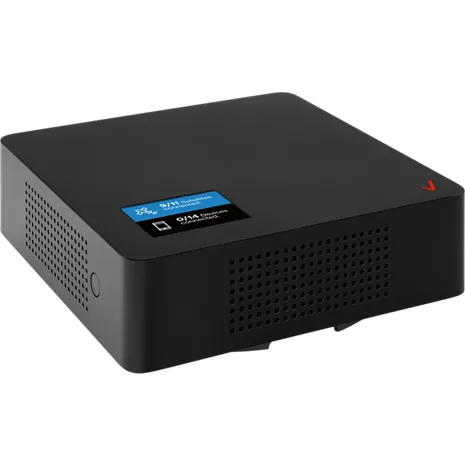 Overview tab selected 1 of 4
Overview Section Start
The Verizon LTE Network Extender is like having your own mini cell tower for your home or office.¹ This sleek, compact device enhances your existing LTE coverage at no additional monthly cost.² It supports up to 16 users with low transmission power and has good radio frequency (RF) performance thanks to an internal antenna.³ Do more of what you love with the LTE Network Extender and Verizon, America s most awarded network.

Utilizes current internet connection.
Place the Verizon LTE Network Extender in your home or office to extend your Verizon network and enhance service. Quick and easy to install, the device connects to your existing high-speed internet connection.4

Supports many devices.
Supports up to 16 active devices at once using low transmission power (50mW).³ Experience indoor coverage when Macro base stations cannot provide a good signal. Automatically finds the right LTE band for the strongest connection upon power up.

Easy to use.
A large LCD screen makes it quick and easy to set up and operate your Verizon LTE Network Extender. Flexible mount options for your desk, wall and ceiling are available as well.5

¹Up to 7500 sq. ft. circular coverage (about 50 ft. radius)
²There is a one-time charge for the Verizon LTE Network Extender device.
³Idle capacity is based on one in five users being active in a population and may vary by location and time of day. Supports 14 active users at any given time. One channel is always reserved to support 911 calls, and another is reserved for redirect purposes.
4Requires always-on internet access with 10 Mbps down and 5 Mbps up minimum; 20 Mbps down and 10 Mbps up or higher recommended.
5Mount accessories sold separately.
Reviews
61% of reviewers recommend this product.
Wrong time zones
First device would not broadcast central time zone to connected devices. In the UI both time zones were configured for central time. Support sent me a replacement device which had the same defect. I could only get EST on connected devices. Many hours spent with their technical support. If you don't live in an EST time zone, don't be surprised if you run into challenges
Great Unit, Once it Acquires Satellites
This unit has worked wonders to improve cell coverage in and around my house. I had an earlier unit but for some reason it stopped receiving satellites. This one works great! One question, my display seems to continuously cycle through the different status pages, showing Active, then how many satellites connected, etc. Is this normal on the current model, or should/can the display light be turned off if desired?