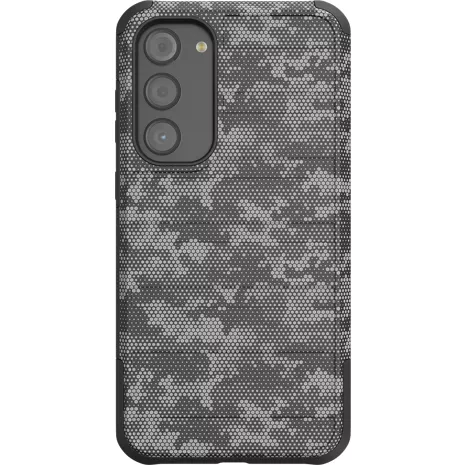 Overview tab selected 1 of 4
Overview Section Start


Your purchase of this product helps us in our commitment to support climate protection. Learn more at citizenverizon.com

Protect your phone from drops, bumps and dings with the Rugged Case for Galaxy S23+. Made in part with recycled plastic, this sturdy case features a reinforced backplate for rugged impact and scratch protection. And, it's magnetic charging compatible, so you don't have to remove your case to charge your phone.

Eco-friendly design.
Verizon phone cases are made in part with post-consumer plastic. And, the packaging is 100% recyclable.

Quality design.
Verizon accessories go through multiple rounds of rigorous testing for certified quality and durability. Verizon also offers a limited lifetime warranty on our cases.

Easily available.
Pick up a Verizon phone case with your new phone purchase. All of our accessories are available both on our website and in stores.
Reviews
50% of reviewers recommend this product.
Exactly What I Wanted
Yes, I'd recommend this product.
My new 23+ is so slick and smooth! But that gave me all sorts of anxiety about dropping it. If my handling of my old phone was a clue, I'd be dropping it in no time! But I had an Otterbox on my old phone and when I removed it, the phone was still brand new. This time, I decided to try this case from Verizon. The one thing I didn't like about my Otterbox was that it had a film that covered the camera lenses. Eventually, the film discolored and it began to affect my pictures. This Verizon case did not have have that issue (although I did have to buy a separate camera lens protector). Also, I like that manly digi-cam pattern. (Retired military...just had to get it.) It had a high drop protection factor and gave me a great tactile grip feeling. In conclusion, I have no regrets or second thoughts about this case one bit. Well...it was a bit on the pricier side. But you get what you pay for, so there is that. Get this one with confidence.
Comfortable and rugged
Yes, I'd recommend this product.
Feels good in the hands, and doesn't slip out. Rugged and durable too!