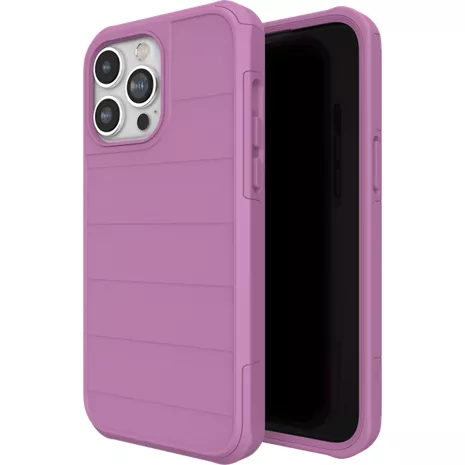 Price
$14.99
Pricing reflects 75% savings.Details
Overview tab selected 1 of 4
Overview Section Start


Your purchase of this product helps us in our commitment to support climate protection. Learn more at citizenverizon.com

Protect your phone from drops, bumps and dings with the Rugged Case for iPhone 14 Pro Max. Made in part with up to 85% recycled plastic, this sturdy case features a reinforced backplate for rugged impact and scratch protection. And, it's magnetic charging compatible, so you don't have to remove your case to charge your phone.

Eco-friendly design.
Verizon phone cases are made in part with post-consumer plastic. And, the packaging is 100% recyclable.

Quality design.
Verizon accessories go through multiple rounds of rigorous testing for certified quality and durability. Verizon also offers a limited lifetime warranty on our cases.

Easily available.
Pick up a Verizon phone case with your new phone purchase. All of our accessories are available both on our website and in stores.
Reviews
44% of reviewers recommend this product.
Pictures are deceiving
kittykatz023 . 1 month ago
Was excited to get this and shipping was speedy. However, the color is a dark purple rather than a pink/purple like it shows in pictures. It's also three pieces instead of one that don't fully clasp together on one side. It's cheap plastic and I'm getting a casetify again instead of using this. Verizon is great for a lot but sadly this was a waste of money.
Not recommend
Doesn't work with a lot of charges as implied by the sales rep.
The Verizon Team - 1 month ago
Thank you for taking the time to share your feedback. We aim to provide the best cases that will fit your devices to keep them safe from damage, at home and on the go. You may check our return policy here: https://www.verizon.com/support/return-policy/. We hope to earn back your trust.