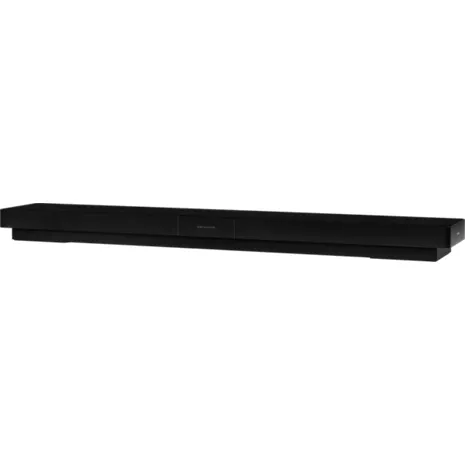 Overview tab selected 1 of 4
Overview Section Start
Bring the theater to your living room with the power of the Stream TV Soundbar Pro. With Bang & Olufsen's signature audio design and built-in 4K Ultra High Definition¹ streaming, Stream TV Soundbar Pro is a 2-in-1 entertainment solution. The modern minimalist design creates a home theater experience that looks as good as it sounds.

All-in-one solution.
Streamline your home theater equipment by combining 4K Ultra HD¹ streaming and expansive virtual surround sound in one convenient device. Simplify your living room setup even further by connecting your game consoles or other media devices to the 3 HDMI inputs.

Immersive sound.
Get the sound quality your TV has been missing. Bang & Olufsen signature audio design with 9 built-in speakers and spatial sound from Dolby Atmos bring an immersive audio experience to your living room.

Thousands of movies and TV shows.
Hundreds of streaming apps are available to download from the Google Play Store³ - including Netflix, Disney+, Apple TV app and so many more. New releases and old favorites can be rented or purchased in the Stream TV Store² and free live channels are available from Pluto TV - just press the Guide button.

Stunning modern design.
Elevate the style of your home theater with the timeless design and unrivaled craftsmanship of Bang & Olufsen. Set on a table or mount on the wall - the choice is yours.

Next gen remote.
The Stream TV Voice Remote connects via bluetooth and can control power and volume on your TV, sound bar, or audio receiver, allowing you to control your entertainment system from a single remote. The Google Assistant³ button activates voice-powered search and the Find My Remote button makes your remote beep so you can quickly find it when it's misplaced.

Simple, customizable user interface.
Pin your favorite apps to the home screen for easy access or find your next favorite movie with personalized recommendations. When you know exactly what you want to watch, the intelligent search feature will show results across all of your subscribed services.

¹ 4K compatible devices required. 4K content viewing will be impacted by additional factors like internet speed, Home Network congestion and operating system of devices used for content access.
² Purchase or rent available through Stream TV or Stream TV app on Android Platform. App purchases are not supported on iOS.
³ Google service terms apply.

Reviews
30% of reviewers recommend this product.
Nice design, good quality with decent sound
The packaging is great. The sound bar arrived with no instructions but were easily found on google. The directions are not that great. Be sure watch the video on google and be sure to plug into the OUT of the bar or you will be frustrated with nothing happening. The remote may not link right away but it eventually will. After that, the set up is very easy. The most difficult part of this process is entering all of your pass words for all the apps. Other than that, the set up is pretty normal. The sound quality seems great as is. I am have not figured out how to use the EQ, or the sound functions other than what is being played though normal. There is nothing in the manual or on google for sound adjustment options. But is does sound good. There is NO support at all with Verizon so DO not call and ask for help. I did and found out the hard way that there is no support on this product even though it has the Verizon name and logo all over it. Do not expect the same great tech support you get with your cell phone. I was told if you don't like it, return it. This sound bars works great if you do not have a smart tv. It makes it smart.
Poor Sound Quality
Setting up wasn't easy (by ARC). The sound quality leaves a lot of room for improvement. A single HomePod mini has significantly better sound quality than this bar. It's been a big disappointment.