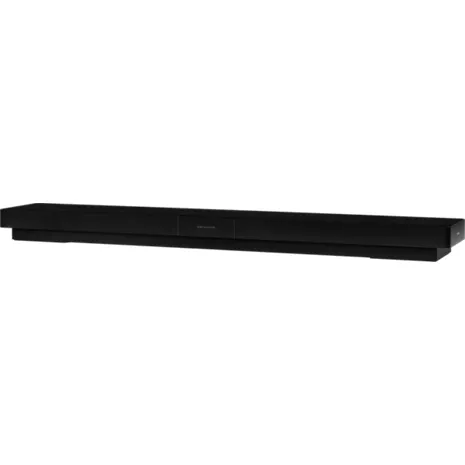 Bring the theater to your living room with the power of the Stream TV Soundbar Pro. With Bang & Olufsen's signature audio design and built-in 4K Ultra High Definition¹ streaming, Stream TV Soundbar Pro is a 2-in-1 entertainment solution. The modern minimalist design creates a home theater experience that looks as good as it sounds.

All-in-one solution.
Streamline your home theater equipment by combining 4K Ultra HD¹ streaming and expansive virtual surround sound in one convenient device. Simplify your living room setup even further by connecting your game consoles or other media devices to the 3 HDMI inputs.

Immersive sound.
Get the sound quality your TV has been missing. Bang & Olufsen signature audio design with 9 built-in speakers and spatial sound from Dolby Atmos bring an immersive audio experience to your living room.

Thousands of movies and TV shows.
Hundreds of streaming apps are available to download from the Google Play Store³ - including Netflix, Disney+, Apple TV app and so many more. New releases and old favorites can be rented or purchased in the Stream TV Store² and free live channels are available from Pluto TV - just press the Guide button.

Stunning modern design.
Elevate the style of your home theater with the timeless design and unrivaled craftsmanship of Bang & Olufsen. Set on a table or mount on the wall - the choice is yours.

Next gen remote.
The Stream TV Voice Remote connects via bluetooth and can control power and volume on your TV, sound bar, or audio receiver, allowing you to control your entertainment system from a single remote. The Google Assistant³ button activates voice-powered search and the Find My Remote button makes your remote beep so you can quickly find it when it's misplaced.

Simple, customizable user interface.
Pin your favorite apps to the home screen for easy access or find your next favorite movie with personalized recommendations. When you know exactly what you want to watch, the intelligent search feature will show results across all of your subscribed services.

¹ 4K compatible devices required. 4K content viewing will be impacted by additional factors like internet speed, Home Network congestion and operating system of devices used for content access.
² Purchase or rent available through Stream TV or Stream TV app on Android Platform. App purchases are not supported on iOS.
³ Google service terms apply.

Reviews
50% of reviewers recommend this product.
Lacking in Booming Bass sssss
I really wanted to like this product. The clarity of it and Android TV works and sounds great but the bass cranked to "10" in the settings (as high as it can go) left me longing for more thump. I wish there were a subwoofer add on. As someone else mentioned, this would probably be best in a small room. I couldn't justify the cost (even with the $350 credit I received) with the quality of sound. So, I am returning it.
Underwhelming sssss
Everyday Driver . 2 months ago
I'm really trying to like this. I did get this with a $300 off promotional credit plus $200 credit in the Verizon store. But even at $500 I'm having a hard time justifying the value. For a soundbar there are minimal adjustments that can be made. Both wall and table mounted it gives the sound a boost. But the immersion I expected is basically absent with Atmos content. This bar is best suited for a bedroom or small living room. To think I paid $1,300 for a Samsung Q990b which is basically $300 more than the B&O, and it provides mind boggling immersion, base, clarity, and adjustment I can't imagine buying this at $1,000. Even picture adjustments are difficult because the android interface uses all sorts of terminology that maybe .05% of the population actually knows what it's doing. The remote provides no settings button to adjust things while watching content so you set and hope you got it right. It's infuriating. The bar, placed 3' away from my Wi-Fi seems to struggle to keep an internet connection. The video seems washed out and dull when compared to my TV's Roku interface. The Android OS also seems laggier and my TV is 6 years old. I'm debating returning it and getting a Bose or Sonos. It's just too underwhelming for what it should be. There is a lot to be learned here by Verizon and B&O when it comes to providing a product like this. The OS while not hard for me to understand would easily be for many. Google needs to work on making adjustments available in-content as well as more easy to understand adjustments. The lack of sound adjustment is ridiculous for something that's main purpose is to provide sound. I have no clue when the soundbar is processing Atmos—if it is at all and it does not sound like it despite being fed that content. B&O should be weary of developing and compromising on a product that does not live up to their level of quality. Again, I'm giving it a few more days but as of now I'm leaning toward returning it. There are better options at or below the same price that provide better sound and better adjustability.
Stream TV Support - 1 month ago
We appreciate your feedback. To better understand your issue, our support team will need your unit's diagnostic information. please report your issue through the Stream TV Soundbar, by going to Settings > Help > Report a Problem, and an agent will address this issue. Thank you.