carousel with 1 slides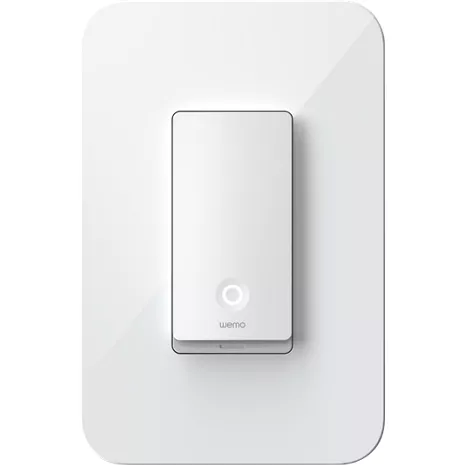 carousel with 1 slides
Take control of your lights with the WiFi Smart Light Switch. Turn your lights on and off hands-free using your digital assistant.¹ Control your lights with your smartphone using the Wemo app. Create lighting scenes that vary throughout the day by setting rules and schedules. Plus, Away Mode makes it look like you're home, even when you're not. And, it works with Google Assistant, Alexa, Apple HomeKit, Nest, and IFTTT so they're easily worked into your smart home ecosystem.

¹When paired with a voice recognition device or service, sold separately.
Reviews
25% of reviewers recommend this product.
App doesn't find the device after 1 year of usage
MarkIsNotHappy . 5 months ago
I develop software as a career. I have used Wemo for many years. These wls040 and wls0403 devices worked for about a year. I purchased 4 of them and ALL 4 have now failed to connect to the Wemo app. They can be added to the network. I can see them on the router but the Android Wemo app DOES NOT detect them. I have a windows-based 3rd party Wemo app and it finds them and controls them. After performing a factory reset multiple times, turning the power off and back on, uninstalling and reinstalling the Android app, uninstalling and reinstalling the app on an IPhone, I'm giving up and going with another brand. The return window closed a little over a week ago. Good luck if you purchase these.
Customer Support - 5 months ago
Hi, Mark, We understand how frustrating your experience is. There have been cloud issues reported in the past days but we have yet to get confirmation from the engineers who are currently conducting an investigation around this. For further discussion, we recommend ringing our hotline number or reach out to any of our Social Media accounts. Our contact details are available on our website. Regards, Rosalyn Wemo Support
belkin.com Originally posted on belkin.com
A great device for programmable and remote control
Yes, I'd recommend this product.
I have several of these and was pleased to add this to my collection. They install easily, but you must have a neutral wire in the electrical box, so check first. Also check the size of the box. These new smart devices don't fit well in older shallow boxes, so you might have to put in a deeper box. Finally, they do not work in 3-way installations. It looks like this one is a V2 model, which uses Apple HomeKit for setup, but it still works with WiFi only and no hub after setup. I think the newest V3 models require a HomeKit hub to operate at all, so I was pleased to find this V2 model on the Verizon site. Overall a great device for programmable light control and remote access.