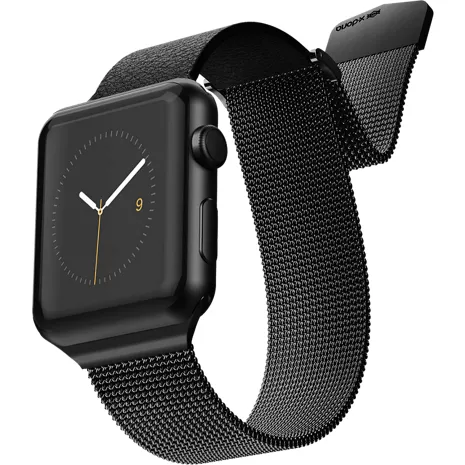 Price
$31.99
Pricing reflects 20% savings.Details
Overview tab selected 1 of 4
Overview Section Start
Find your perfect fit with the Hybrid Mesh Band for Apple Watch 42/44mm. Whether you're looking for a second band or a replacement for your old one, this genuine leather accessory is sure to turn heads. Stainless steel loops provide a sleek and refined style, while a magnetic closure system makes adjustments quick and hassle-free.
Reviews
60% of reviewers recommend this product.
Watch band
Yes, I'd recommend this product.
So easy to use and the magnet keeps it in place!
Metallic
When they tell you that it will stick to itself and not fall off they are accurate, however it will also stick to other metal surfaces as well :) The magnet that it has on it sure does keep it on your wrist I have tried to make it break free, it sill slip lose a little; however it will just get loose but not fall off the magnet will just re attach I don't do extreme stuff with my watch on though. So I cannot attest for that part of it yet :). One thing I don't like about it thought is that when I am typing on my laptop for work it will stick to the surface as it is hybrid metal surface or if on a desk that is metal it will stick to it, or on my truck it will stick to that when my arm is outside of it. That kind of drives me a little batty but all in all I do like the band but not for the price I spent on it that is why I gave it 3 stars. I said I would not recommend this to a friend only because of the cost of it if it was cheaper I would recommend it the color is nice that is why I bought it actually, but I would tell them it sticks to metal surfaces so be aware of that :).