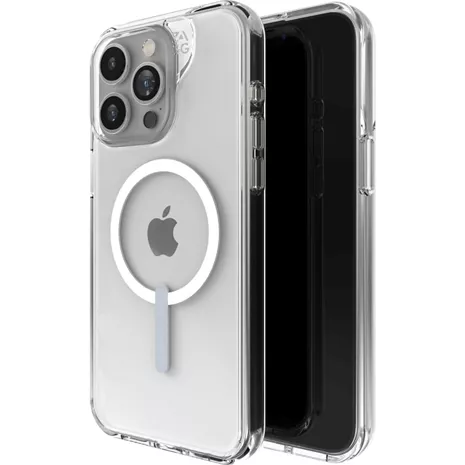 Overview tab selected 1 of 4
Overview Section Start
Protect your phone from drops, bumps and dings with Crystal Palace Snap Case with MagSafe for iPhone 15 Pro Max. Made in part with up to 74% post-consumer recycled content, the clear, sturdy case provides up to 13 feet of drop protection.1 Built-in antimicrobial treatment protects the case from dirt and germs.2 The edges of the case provide an improved, non-slip grip to help you keep hold of your phone. And, it's MagSafe and wireless charging compatible, so you don't have to remove your case to charge your phone.

Strengthened with Graphene.
This durable case is made with Graphene to shield against bumps and dings. Graphene is harder than diamond yet more elastic than rubber and up to 200 times stronger than steel.

Anti-yellowing.
The anti-yellowing and scratch-resistant properties will help keep your case clear and intact over time.

1 Based on independent testing.
2 Contains an antimicrobial agent with properties built in to protect your case by inhibiting the growth of odor-causing bacteria and guarding against degradation from microorganisms.
Reviews
0% of reviewers recommend this product.
Unhappy
Never received product. Says order was lost in shipping, but I'm still being charged for the order on my Verizon bill.
Bait and switch
Bait and switch. Shown one product, given a different (unwanted) product.