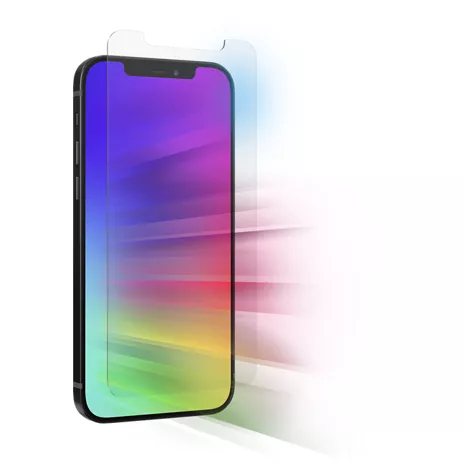 Safeguard your eyes from digital eye strain associated with high-energy visible (HEV) blue light by adding the InvisibleShield Glass Elite Screen Protector with VisionGuard+™ to your iPhone 12/iPhone 12 Pro. This screen protector doesn't just protect your display from accidental mishaps and everyday wear and tear, it also includes bacteria-fighting anti-microbial technology for high-tech germ defense. Keep your iPhone 12/iPhone 12 Pro looking like new with InvisibleShield's 4-in-1 protection.

Colors stay true.
The built-in Eyesafe® layer helps filter HEV blue light without distorting the true colors of your display.

4x stronger than traditional protectors.*
Extreme shatter protection combined with ion exchange technology increases surface compression for added strength to guard against drops, dings and accidental damage.

Anti-microbial protection.
Embedded silver ions in the glass screen protector help kill up to 99.99% of bacteria that can accumulate on your display, and it won't wear off.

Smudge free.
No one wants smudges and fingerprints on their screen. To keep your display looking like new the InvisibleShield Glass Elite Screen Protector is treated with ClearPrint™. This revolutionary surface treatment disperses the oil from your fingertips to keep your screen clean.

*Based on independent testing.
Reviews
57% of reviewers recommend this product.