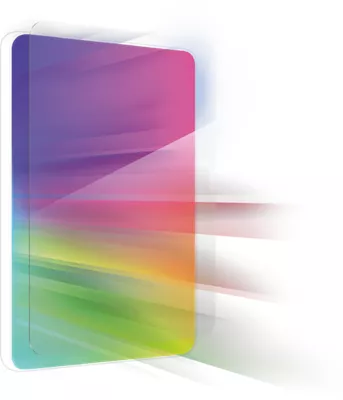 Safeguard your eyes from digital eye strain associated with high-energy visible (HEV) blue light by adding the InvisibleShield Glass Elite VisionGuard+ Screen Protector to your iPad (10th Gen). Scratch-resistant design and reinforced edges use ion exchange technology to help protect your screen. The smooth, silky feel makes it feel like there's nothing on your screen. Keep your iPad (10th Gen) looking like new with InvisibleShield's 4-in-1 protection.
Colors stay true.
The built-in Eyesafe® layer helps filter up to 40% of HEV blue light without distorting the true colors of your display.
5x stronger than traditional protectors.¹
Extreme shatter protection combined with ion exchange technology increases surface compression for added strength to guard against drops, dings and accidental damage.
Anti-microbial treatment protects your screen protector.
InvisibleShield Glass Elite VisionGuard+ contains anti-microbial treatment that protects the screen protector by inhibiting the growth of odor-causing bacteria and guarding against degradation from microorganisms.¹
¹ Based on independent testing.
Reviews
7 reviews
of reviewers recommend this product.