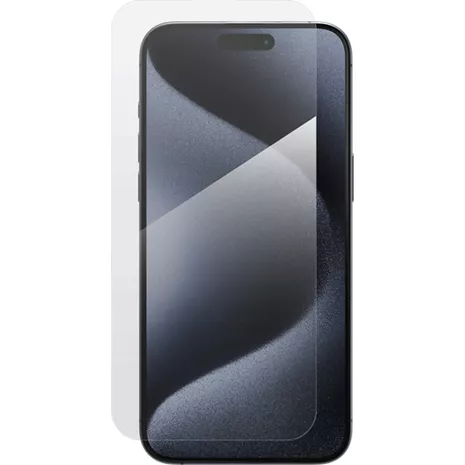 Overview tab selected 1 of 4
Overview Section Start
Protect your screen from cracks and scratches with the InvisibleShield Glass XTR3 Screen Protector for iPhone 15 Pro Max. Made in part with up to 30% post-consumer recycled glass, shock-absorbing Hexiom impact technology provides edge-to-edge enhanced scratch protection for your phone. The enhanced EyeSafe layer filters up to 60% of intense blue light. Anti-reflective technology decreases reflection and increases light transmitted to improve clarity. And, the built-in antimicrobial treatment prevents the growth of odor-causing bacteria.1

Engineered for gaming.
The Glass XTR3 has an SiO2 enhanced coating for maximum touch sensitivity for fast, frictionless play while gaming.

Easy application.
The included Applicator Tool makes it easy to install your screen protector without any bubbles or bumps. And, the new adhesive installs smoothly over dust, making it practically invisible.

1 Contains antimicrobial treatment that protects the screen protector by inhibiting the growth of odor-causing bacteria and guarding against degradation from microorganisms.
Reviews
56% of reviewers recommend this product.
Didn't last long
I've had my phone for about two weeks and noticed A slight crack, a few days ago on the screen protector. Now there's multiple spots and I have not dropped the phone at all. I'm gonna try a different brand. Definitely not worth the $60 price tag
Bad instructions
Well, I was told twice if someone would have to be home to sign for it I kept my son home all day long and find out it was delivered two days before and left at the front door. Is that a good thing or is that a bad thing anyone could've picked that box up and walked away and I would've still been responsible for it.