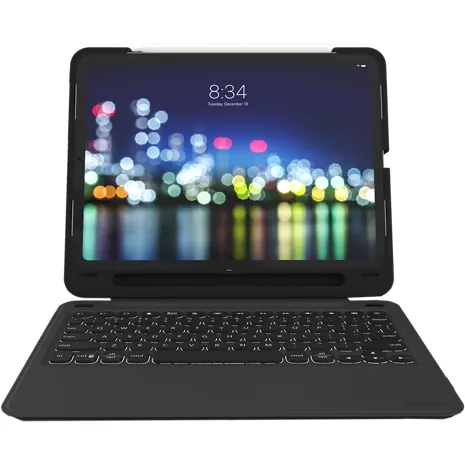 Overview tab selected 1 of 4
Overview Section Start
Turn the world into your workspace with the Slim Book Go for 11-inch iPad Pro (2020). This slim, lightweight case is made from durable polycarbonate for sturdy protection against drops, bumps and dings. And with a detachable keyboard and convenient Apple Pencil holder you can make the most out of your iPad while on the go.

Versatile positioning.
Set up a comfortable workspace with the detachable keyboard and case. With 4 convenient viewing modes — book, keyboard, case and video you can get comfortable and get more done. Set your iPad at the best possible viewing angle using the reverse kickstand. With a 100-degree radius for optimal viewing and working conditions, you can comfortably work most anywhere.

Multiple screens for increased efficiency.
Double the screens for double the productivity. By pairing two devices simultaneously, you can toggle back and forth between projects to maximize productivity.

Backlit keys.
Low-light conditions are not a problem with Slim Book Go's backlit keyboard. Choose from 7 different colors to keep working long after the sun has gone down.
Reviews
75% of reviewers recommend this product.
My portable office
Marcella J. . 10 months ago
My only concern is it becomes heavy with the keypad. The connection is quick once it's paired up.
zagg.com Originally posted on zagg.com
The holder wasn't durable enough :/
Battery life is very good. You only need to charge the keyboard every once in a while and it charges very quick. I often run into some issues with keyboard input, especially when taking notes on icloud notes, google doc, etc. Whenever that happens I just turn off the keyboard and type using the touchscreen… The case held up pretty well for a while but the holder on the back of the case broke after 2 years… Considering I don't use my ipad very often (I use it once a week or less), the case might not last long enough for most users. I'm gonna need to buy a new case now :/
zagg.com Originally posted on zagg.com