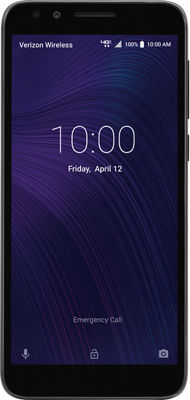 This device is no longer available for purchase.
Get the whole picture with the Alcatel AVALON™ V. Play games and browse videos on a slim, sleek and stylish smartphone with a 5.34-inch 18:9 Full View Display. Capture life's best moments using special enhancements on a 5 MP rear-facing camera. The Alcatel AVALON V includes a powerful quad-core processor and 2,460 mAh battery for up to 24 hours of usage time on a single charge.* Make the most of it with Verizon, the nation's largest and most reliable 4G LTE network.
Reviews
start rating review 2.3 out of 5 stars
2.3/5
28 Reviews
32%
of reviewers recommend this product.
Surprised
Hello - 3 months ago
Yes, I'd recommend this product.
I caved and agreed to get my daughter a phone. I'm an iPhone user and had no idea where to start in finding a phone, because I was definitely not trusting her with an expensive phone with over the top features for a kid. I am pleasantly surprised(?) by this phone. It's pretty simple, and getting her set up on Android was way easier than I expected it to be, having no experience with it. The price is the winner here and I was not expecting to find something this inexpensive that works actually pretty well. I'll say you get what you pay for, but I am pleasantly surprised that I got more than I was looking for and it's working better than I thought it would. Agree that the camera is the worst part of the phone.
Great affordable phone!
SDBeachGirl - 3 months ago
Yes, I'd recommend this product.
I came in looking for a low cost basic phone and was pleasantly surprised on what this phone has to offer. Screen is nice and bright, I like that it is compact and portable. Camera gets my by and easy to use.
Very happy
POOH - 6 months ago
Yes, I'd recommend this product.
I bought this phone for my husband for Christmas. It is his first smartphone and he loves it. I asked if there were any complaints. His response was "Yes", he needs to learn how to use it. We are very pleased so far.
Great for first phone
Reviewer - 9 months ago
Yes, I'd recommend this product.
Both of my kids have this as their first phone. While my son would like more memory, this works great for their needs. It is much better than my Motorola that has trouble making calls from my home or work. Their phones always work, no problem. I may just get one of these for myself (as soon as I've finished paying off my more expensive one).
Correction - MicroSD
VerizonCommunityCircle - 5 months ago
@Proud Army Vet Thank you for your feedback. We are sorry for any confusion but this device supports up to a 32GB Micro SD. A micro-USB data cable is included to transfer files to your computer or another device. You can also backup your content using Verizon cloud.
Grainy Camera
AR CA - 4 months ago
Yes, I'd recommend this product.
Good-looking, lightweight, but elemental smartphone. The 5MP Camera is its biggest downfall. Less bothersome is that apps always take a second or two before they'll show you the option to close them, but it almost seems like that's by deisgn(?) Really love the feel of the back of the phone in my hands, though - it almost feels moisture-wicking!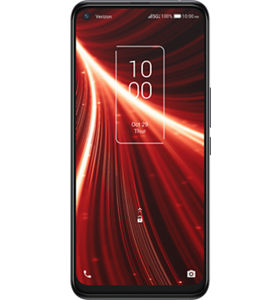 TCL 10 5G UW
Starts at
$16.66/mo
For 24 months, 0% APR
Battery life
Not available
*Based on average battery life under typical usage conditions. Average expected performance based on typical use. Actual battery life depends on factors such as network, features selected, frequency of calls, and voice, data, and other application-usage patterns. Results may vary.