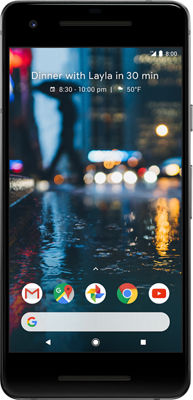 This device is no longer available for purchase.
Introducing the Google Pixel 2. Discover a better way to capture, store, and see the world. Pixel 2 features a smart camera that takes beautiful photos in any light, a fast-charging battery and the Google Assistant built-in. Phone also comes with a 2 year warranty, for peace of mind. Verizon is your destination for the hottest phones like the Google Pixel 2, all on the nation's most reliable 4G LTE network.
Reviews
start rating review 3.5 out of 5 stars
3.5/5
135 Reviews
57%
of reviewers recommend this product.
Switched from the iPhone to the Pixel 2 and LOVE it!
Aylor72 - 7 months ago
Yes, I'd recommend this product.
I was hesitant to change back to Android after being with Apple for the last 5 years. The phone is phenomenal. It is crazy fast. The only thing that I struggle with is getting used to the text messaging and keyboard. Other than that, it is great! The battery life is amazing too. I am constantly on my phone, i even had to charge my iphone twice a day. Now i can get to 5 or 6 pm and not even be at 50% lol if you are considering switching, DO IT!
Loving It So Far!
Danielle0314 - 9 months ago
Yes, I'd recommend this product.
I've owned HTC smartphones until now, and it's certainly a perk that HTC designed this phone. It's a smidge smaller than the One M9 I just traded in, and very thin. Quick fingerprint reader and the camera is amazing. If you're a Google user this phone is great, just comes with Google apps and none of that extra junk other phones can come with, and works very fast. Moving background is nice too. Phone calls come in clear and other end can hear me just fine.
Fantastic battery life! Amazing camera! You won't find a better Android phone...
Disastrous Rainbow - 9 months ago
Yes, I'd recommend this product.
Skip this review and remove two stars if you absolutely NEED expandable storage, a headphone jack, or wireless charging. For everyone else, get this phone immediately. It's honestly the best Android phone on the market. What makes it that is exceptional battery life that will easily get you through the day (or two if your usage light) and a camera that is consistently great. Every shot I take of scenery or my dogs comes out looking great, and the portrait mode is surprisingly good considering there's no dual camera setup. The software of this phone and speed is also among the fastest, if not THE fastest, you'll experience of modern phones. It's just as snappy as an iPhone 7 or 8 (I had the 8 for a couple of days before the Pixel 2) and as far as Android phones go there really is no rival. Everything just glides along when you use it. My main gripes are that I do wish the bezels were a little smaller but since the phone is very hand-friendly it's really not that big of an issue. I also wish there was a white front model and wireless charging because that feature IS very convenient, but these are nitpicks compared to everything this phone gets right. Honestly, give it a shot and trust me you won't be disappointed.
Excellent Choice
MarioJF - 9 months ago
Yes, I'd recommend this product.
I preferred the Pixel 2 because it was smaller than the XL and that's just my preference. The Google Pixel phones are pure Android and nothing else. A couple of Verizon apps but other than that, no bloat ware. The finger print scanner is super fast better than my wife's Apple) and the Pixel 2 is fast overall. The sound quality is good and yeah, it needs the provided dongle to use standard headphones but you'll get over that quickly. In spite of the early reports, I was able to pair Pixel's Bluetooth with my 2016 Subaru Legacy on the first try and haven't had any problems at all. The camera is fantastic and I really like the "shake feature" to go from camera to selfie. I'm a retired communications technician so I know phones and believe me, Google did it right. The best feature is whenever there's an Android update, the Google phones get it first. No more waiting for a year or more! I highly recommend the Pixel 2 or XL over all the others out there.
Love this Phone!
mhtech97 - 2 years ago
Yes, I'd recommend this product.
I really like this phone a lot so far. Coming from an iPhone 6, I am happy to say that I will never be going back to it. This phone is incredibly fast, with zero lag. Everything works smoothly, and the camera is an absolute beast. I have taken DSLR-quality photos in all lighting conditions, and I would say that this is the best smartphone camera available right now. Battery life is fantastic, especially with the standby times. I like the display too, it is nice and clear and bright, and it see-able in bright sunlight at full brightness. I don't mind the bezels, even though they're on the large side. The fingerprint scanner is super fast; it is great to be able to unlock the phone right into the home screen without turning the screen on. And it's placed in the right spot for my finger to reach. This phone comes with a quick switch adapter, which transfers photos, messages, and even apps!! within about half an hour. It really made the transition process easy. There is no headphone jack, but I switched to Bluetooth headphones just recently, and love not having the wire in the way. Android has really come a long way since I had the Samsung Galaxy S3, many of the apps are better than the iPhone version, which I was surprised at. The front-facing speakers are loud and clear, it's smart that Google placed them on the front, I'm not sure why all phones aren't like this. From hardware to software, this is a killer phone! If you are planning on getting a new phone soon, I highly suggest you try this one out. You won't be disappointed.
Very satisfied
dad child of God - 2 years ago
Yes, I'd recommend this product.
It does everything it is supposed and takes incredible photos which is important to me with 4 children. Read on a forum/review that this phone is Androids version of an I-phone. After experiencing Apple's IOS with 3 I pads and a Mac I would say that is a nice analogy. Very clean. Currently getting reception in areas I did not on my Nexus 5x and Motorola. Front speakers make calls super clear no matter what hand I am holding it with and dancing with said kids in kitchen. No issues and very efficient with everything. Have had it off the charger since 6 am it is 315 pm; have had 1 1/2 hours screen on time, and running pandora/making calls. I have 70% battery left. Screen could be a touch bigger but I am satisfied. Worth the wait and it really has been a pleasant experience thus far. Have not needed the headphone jack yet, but I am sure there will be that one time I do miss it.
1 Coming soon.
2 Free, unlimited original-quality storage for photos and videos taken with Pixel through the end of 2020, and free, unlimited high-quality storage for photos taken with Pixel afterwards.
3 Google Lens is only available for Latin character sets.
4 Based on use of the included charger and a mix of talk, data, and standby use. Actual results may vary, see website for details.
5 Pixel 2 has a water protection rating of IP67 under IEC standard 60529. Charger and accessories are not water resistant.
6 Transfer time depends on data stored on your phone. Some third-party data may not be transferred automatically. Visit g.co/pixelcare for information.
**Varies with Always on Display setting