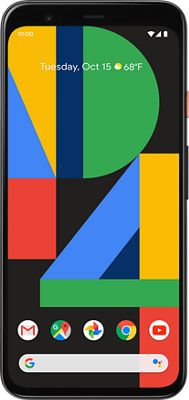 Watch videos
This device is no longer available for purchase.
Introducing the Google Pixel 4. Take studio-quality photos on a dual 12/16 MP rear-facing camera featuring Night Sight mode. Get stuff done with the new and improved Google Assistant. And control your device with quick and intuitive gestures using built-in Motion Sense. Verizon is your go-to location destination for the hottest smartphones like the Google Pixel 4, all available on the nation's most awarded network.
Reviews
2.1/5
67 Reviews
20%
of reviewers recommend this product
My husband has had this phone for close to a year and a half. It was a Christmas present after he had had his pixel 2 for 2 years, so I thought it was time for him to upgrade. He loved the pixel 2 and never had an issue. The pixel 4 is total garbage. We had to pay for a replacement through insurance this time last year because the battery was stuck at 50% and would die if it wasn't plugged into the charger. Even when it was plugged in it may or may not work. The replacement phone worked for a few months, and then the same stuff started again. The only good thing about it is the camera, but so many phones now have great cameras. He said he cannot wait until he can get rid of this dumb phone and get something completely different. I don't think he will ever own another google phone after this one. It's that bad.
Had the Pixel 3 xl before this so when it was time to get a new phone I figured this would be the improved version... I was so wrong! First one I got the speakers randomly stopped working so I had to get it replaced. The battery life is horrible no matter how many times they try to update battery saver. Main camera is okay, but the selfie camera is subpar at best. Always glitching or just plain slow. Want a new phone but they said I can't trade it in till I pay it off, given the overall dissatisfaction of other users you'd think they'd offer some type of deal but no. Stuck with it in the meantime
Response from Google Team - 2 months ago
Hi TJK93,

We really appreciate your feedback, and we are sorry to hear that you are having issues with your Pixel 4.

If you are still experiencing this issue, we recommend contacting our 1:1 support for assistance. (From your phone click on Settings > Tips & support > Contact us)
1 Google Photos offers free unlimited online storage for all photos and videos uploaded in high quality. Photos and videos uploaded in high quality may be compressed or resized. Requires Google Account. Data rates may apply. g.co/help/photostorage
2 US only. See g.co/assistant/languages for available languages.
3 Not all phone features are controlled by Motion Sense. For more information and for eligible countries see g.co/pixel/motionsense.
4 Up to 10 W with Pixel 4 and Pixel 4 XL charging with Pixel Stand (Sold separately). Actual results may vary.
5 Approximate battery life based on a mix of talk, data, standby, mobile hotspot and use of other features, with always on display off. An active display or data usage will decrease battery life. Actual result may vary.