High Tech Computer One remix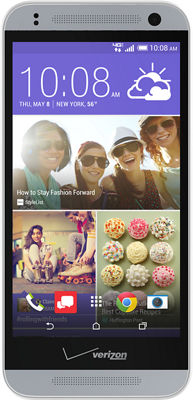 This device is no longer available for purchase.
Conveniently compact, the HTC One remix fits perfectly in your hand, pocket or bag. Featuring a 4.5-inch HD display, 13-megapixel rear camera and an all-metal body. Self-portraits stand out thanks to a 5-megapixel front-facing camera and Beautification effects. Add live content to the Home screen and play music with front-facing speakers. The HTC One remix comes in 16GB and is available in Silver. (Subject to availability)
Reviews
start rating review 3.6 out of 5 stars
3.6/5
306 Reviews
66%
of reviewers recommend this product.
Better than expected!!
JodiBB - 6 years ago
Yes, I'd recommend this product.
I was a bit leery getting this phone t first because NO ONE had it in stock!! Not the corporate store, not the authorized dealers, NO ONE!! No one even had a dummy version that I could hold, until I found one retailer who had a dummy phone so at least I could feel it in my hands. I love the Android system, and yes, I own an iPad and have a Mac laptop, so I'm also loyal to Mac. I don't need my phone to be a smaller version of my iPad, and I've had an Android since the original Motorola Droid and Droid X. However, I hate how the phones are starting to get too big for my pockets and wanted something smaller. The Remix has a nice weight and curve appeal and fits nicely in my hand. After using it for a couple of days though, it started to feel so thin that I'm glad I purchased an Incipio case for it to give it a bit of a rubbery feel to the back as I felt like it was going to slip out of my hands at times because it's so thin and light. It comes with the Android KitKat system and after being stuck on my 2- year old HTC droid Incredible 4G LTE, I needed to catch up to a new 2014 Android system. If you're familiar with Android, it'll be a slight learning curve but not too steep. Some of the features I've turned off and others I love. I love the new "Ok Google" feature to voice activate everything on the phone. The speed is very smooth between applications and the call clarity is good. The choice of ringtones and alarms is a bit lame, so I've added my own but that's personal preference. The battery life is really decent, surprisingly....I have taken my phone off the charger at 5:30am and don't put back on the charger until about 4 pm. I still have about 35% left on the battery and that's after heavy email/text/Facebook messenger/game playing. That's more than any of my other phones have ever done and I know after a few cycles the battery tends to get better once conditioned. The speaker quality is pretty good. My fiancé was really impressed and he's a sound snob when it comes to hearing music on a sound. System. If connects into my WiFi at home easily and the signal strength is pretty consistent. I've had the phone a week and still not much chatter about it by consumers, only critics like CNET and I'm guessing it's because no one is physically carrying it yet. Even the manager of the store where I bought it wanted to play with mine when it came in as he hadn't yet held one.
100x Better than iPhone
Jack772 - 6 years ago
Yes, I'd recommend this product.
This phone is completely underrated. I have gotten several compliments on it's sleek design already, one person even mistaking it for an iPhone 6. I got this phone because it is the perfect size. I found the Galaxy S4 to be too big for my pocket. I didn't have a good experience with Apple because my iPhone 4 had a short battery life and didn't vibrate after the first year I had it. My favorite things about the HTC Once Remix: 1) Amazing metal design looks awesome. 2) 128GB microSD card slot means I won't ever run out of space. 3) Tiny LED light to indicate when I have an unread text or voicemail without having to check. 4) It has a back button on every screen for easier navigation . This was a frustration point for me on the iPhone. 5) Battery is still 50% full at the end of a long day of use. 6) Dual speakers that actually face toward me and sound fantastic. It fills my garage with sound on its own. 7) Within 10 minutes I downloaded every single app that I had on my old iPhone. Only dislike so far is the name "Remix" - that is dumb and makes it sound like not a serious smartphone. In reality, I expect it to compare well to the iPhone 6 in every way - 4 months earlier and $100+ cheaper.
Amazing compact phone
mzbazeball - 6 years ago
Yes, I'd recommend this product.
When I first got this phone last week, I was still nervous about it being larger than I'm used to (I had an HTC Droid Incredible 4g LTE). However, the moment I had the phone in my hand, I realized the larger screen made the user experience so much better. It's very fast, running Kit Kat, and doesn't have as many of the superfluous apps included that my past phones have. It looks sleek, works really well, and integrates with everything I wanted it to. It organizes photos way better than my past HTC phone. It comes preloaded with Chrome which I really liked. The speakers come on the front of the phone and music played on my phone is actually louder than my iPad. The only negative when I first got the phone was how quickly I was eating through the battery. However after about 3 days, the battery started lasting longer. And the more I'm connected to Wifi the longer the battery lasts. I would highly recommend this phone to anyone who likes the top Android phones, particularly the M8, but doesn't want something quite as large.
Love this little phone
riathediva - 6 years ago
Yes, I'd recommend this product.
I initially had an LG G3. It was a very nice phone and I thought I would adjust to its large size...but that didn't happen. So I returned it and got the HTC One Remix. It is the perfect size! The camera is great. I love the fact that I can also add a 128GB external memory card. Every once in a while it seems that there is a little lag in performance and sometimes the call quality doesn't seem loud enough, but all in all they're not deal breakers. I love that this phone has many of the features of the M8, but in a smaller package. I recommend it!
Great Phone
JohnnyMite - 6 years ago
Yes, I'd recommend this product.
I've only had the phone for a week, but it is probably the best phone I've had. Only downside is battery life.
Love this phone
Seasand - 6 years ago
Yes, I'd recommend this product.
Battery life is amazing. Camera and features are excellent. Need to learn zoe. All my apps transfered automatically. The casing is very sleek. Blink feed is nice feature as well as the car app that was on phone. Sound quality is so much better than my htc rezound. Size is just about one half inch longer than rezound which I find a plus. Took me a bit of time to get my samsung tab calendars to link, but don't know if it was user error or what.Originaly wanted to upgrade to samsung, this was insurance replacement, but Highly recommend this phone and wouldn't want to change it.