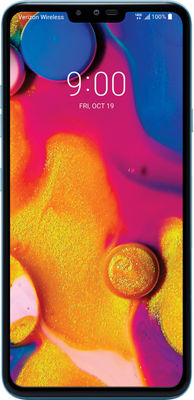 This device is no longer available for purchase.
With a 5-camera system smart enough to expect the unexpected, the LG V40 ThinQ is the one-of-a-kind smartphone perfect for capturing life's special moments. Fit in more of your surroundings with the super wide-angle lens. Get closer to your subject with the telephoto zoom lens. Take clear, bright pictures with sharp detail and vivid color - even in low light - using the standard lens. Or animate select parts of your photos with Cine Shot for truly unique cinematic creations. The LG V40 ThinQ brings advanced photography tools to your fingertips, including automatic positioning, artistic blur and lighting effects and a live preview from 3 different camera angles. And you can unleash its full potential with the consistently fast speeds of the nation's largest and most reliable 4G LTE network.
Reviews
start rating review 4.6 out of 5 stars
4.6/5
620 Reviews
94%
of reviewers recommend this product.
Just Handed My Samsung S10+ Back in For The LGV40
Rocketman - 11 months ago
Yes, I'd recommend this product.
I purchased a Samsung S10+ after doing extensive research and hand on comparisons and handed it back to Verizon within the 14 day trial period in exchange for the LGV40. First, the S10+ is a great phone but it's camera sharpness was a disappointment. As a professional photographer, I have used my LGV10 along side my SLR and have captured amazing, tack sharp images that many of today's camera phones cannot not touch including the S10+. My 4 year old LGV10 images were sharper compared to the brand new S10+. I went back to Verizon and the rep and I took side by sides with the LGV10, S10+, and LGV40 and compared and he was amazed. Both LGs were sharper than the S10+. The color renditions were better in the newer cameras as expected but the V10 could easily be adjusted slightly to meet the S10+ equivelant. Overall, the V40 was the sharpest and equivalent to the S10+ in color rendition and its in-camera post processing much better. As a professional photographer, I am been thoroughly pleased with my LGV10 and even more impressed with the V40. Forgo the marketing hype
LG is underrated
Dern - 4 months ago
Yes, I'd recommend this product.
The LG V40 Thinq is top of the flagship pile. Their cameras are brilliant, their display is superb, and their design is superior. While it took a while to get used to the Stock Android skin and "second screen" aka notch, the usage and form factor are the best. Battery life is an easy day and a half on medium-to-high usage. When you run out of battery it gets around 75% in 30 minutes! Thus phone blew me away. I have yet to put a case or skin on it due to its amazing looks!
Great Phone.
Agent0 - 4 months ago
Yes, I'd recommend this product.
Once again LG makes an amazing phone but does little advertising and no one knows about it. It's always one of the best reviewed phones the V series just like the last few G Series but it doesn't get any love like most Android phones not named galaxy
The LG V-40 is Top Notch in my book- eh so to speak!
Liking the V40 - 4 months ago
Yes, I'd recommend this product.
Absolutely love the new V40. Having just upgraded from the V30 which was a great device itself I am confident the V40 will not disappoint. Mentioning the notch in the title was not a mistake. The V40 comes with a notch which nearly stopped me from purchasing but Good News: The notch at the top is customizable in a number of ways- one can either keep the notch as is-which is mild in appearance anyway or use the straight across border or use a number of fade patterns available made up of color combinations of your choosing that I actually like because it distinguishes the status bar from the main screen. The texting screen is customize friendly too I use large because of my fat fingers but it shrinks down so you can use the phone one-handed as well. The V30 had some peculiar shading or shadowing under the display that you could clearly see when the brightness level was turned down. It did not bother me enough to get rid of the device but it was noticeable. The V40 has eliminated that issue. The display looks fantastic. Speaking of issues in reading a number of reviews on other devices and media pieces I have noticed other devices having charging and speaker problems and memory retention problems. The LG V40 as well as other models by LG have the second year promise warranty that covers the device against problems should they arise. My experience with the V30 yielded no issues over the course of a year. For those outside of LG or even those out side of the ecosystem considering this device: This device comes with a headphone jack. It has home touch buttons at the bottom of the screen that you can choose whether to keep on the screen or hide or change the order of or button color or even add or remove the number of buttons in the group. Maybe a word about battery life: I wish we could all agree to stop talking about battery life because battery life is a personal-your mileage may vary kind of thing. If you use your phone for 38 different operations at the same time all day you will consume more battery no matter what phone maker. Somebody in Wyoming won't get the same result as someone in Anaheim or Newark etc. I have great battery life btw. Comes with a 3300 maH battery. Another interesting feature is you can set the phone to do a restart once a week to clear cache etc. for guys like me I sometimes forget to do that. As far as updates go I received several OTA updates on my V30 as well as her G6 and his V20 over the course of the year so not sure why others are not getting updates. By the way this phone has 8.1 out of the box on it. There Is some bloat aboard but you can either uninstall or disable some but not all of it. The cameras work great for me there are some interesting AI overlay features that are available to spice up the still shots and video-let you find out for yourself. Now about the phone part: I use my phone mostly as a well phone. I must say that of ALL of the devices I have used over the years, the LG phones have a great call quality with very few dropped calls. I would say 4 or 5 dropped calls in a year. I am talking about rural out of town areas. My galaxy s8 dropped calls constantly even while looking right at a cell tower. Overall I am very happy with this device and this brand. LG apparently is listening to customers and creating great stuff. They must have somebody down in QC that is on the job and checking before the product goes to the consumer. If you are looking for a phone that is made well and is backed by a two year warranty maybe you should consider the LG V40. Good Luck to you!
What a beast!
hunter - 1 year ago
Yes, I'd recommend this product.
This is the best phone ive had so far, i had samsungs before and my last was an iPhone 7 plus. What a upgrade it is so fast, the battery life and camera are amazing. Would definitely recommend to everyone chose this over the s10 + and I'm more than happy with my decision. The screen is also so stunning and the amount you can customize is unreal!
Best Audio Experience
Fudster - 5 months ago
Yes, I'd recommend this product.
The V40 offers the best audio experience in any smartphone I've ever owned, especially using the audio jack. Kudos to LG for this underappreciated phone.