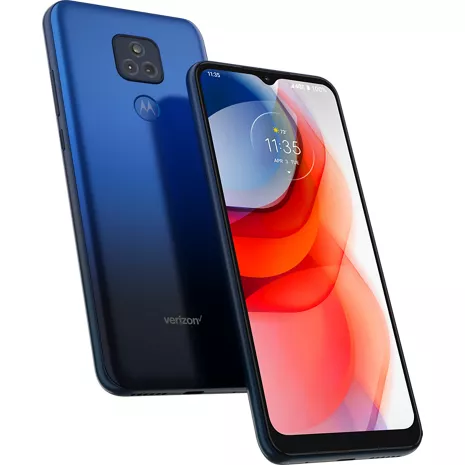 Meet moto g play, the smartphone that's big on screen size, battery and performance. Watch movies, write emails and video chat on the ultra-wide display. Keep the fun going for up to 3 days thanks to the large, long-lasting battery.1 The moto g play is also big on performance, responding to every touch and swipe, so you're always a step ahead. Take portraits to share with friends and create your own works of art with the many camera features. Wherever you go, stay protected from accidental spills and splashes thanks to its water-repellent design.2 Pair the moto g play with Verizon, the network more people rely on.
Reviews
37% of reviewers recommend this product.
It's an ok device sssss
Yes, I'd recommend this product.
The device is ok so far, pictures look blurry when taking some, low on memory only 32GB, good thing it has an SD Card slot for that SD Card, I put one in it, speed and performance is ok, low price budget phone
Excellent Device sssss
Yes, I'd recommend this product.
Hi there stopping by letting you all know that I have a new phone whereas I like it so far, it is the Motorola Moto G Play 2021 phone, so far I like it, it is priced right at my budget that I can afford of the monthly device payments on it, it is a good device to me, I see it only has 32GB onboard memory, and that I can put a external SD Card in it which I have 1 that I got to put in it, I have a 64GB SD card, I've downloaded app after app on it, great phone for the money. It is a good phone to be the cheapest phone. I like that it came with charging cable and the block part of the charger as well as a complete charger. It is a awesome device with great features to me, I am very happy with my purchase. The only thing is the camera does not seem to be as good quality as it should be, seems like 8MP to me and not 13MP, Motorola has me as a new customer, I hope my next Motorola be more of a better camera quality, the fingerprint is fast and responsive to me, An excellent device at a good given price point I can afford, you really can't go wrong on this device at only $150, I see that is is 4G LTE and not an 5G, Super pleased with it's performance, I high recommend it, doesn't lag or slow down, This phone is perfect for me, Now to me it may be a little tight on memory out of the box, but I like the fact that I can add a Micro SD card to make that up, I love the blue color, Works well to me and quickly responds to clicks/touches with ease. Seems to charge quickly I'd say as well I would prefer the fast-charging ability. I like that I can customized the phone as far as personalize it, I like the size of the screen, just right for me, thank you Motorola for a good Android Smartphone and thank you Verizon Wireless for letting it be within a good price range I can afford and that I can pay it off if I wanna upgrade to a different device one day, it might be another Motorola device like a newer one.. it's not heavy to me. I love it
1. Based on average battery life under typical usage conditions. Average expected performance based on typical use. Actual battery life depends on factors such as network, features selected, frequency of calls, and voice data, and other application usage patterns. Results may vary.
2. Water-repellent design creates a barrier to help protect against moderate exposure to water such as accidental spills, splashes or light rain. Not designed to be submersed in water, or exposed to pressurized water, or other liquids; may diminish over time. Not waterproof.
3. Battery must be substantially depleted; charging rate slows as charging progresses.
4. Available user storage is less due to preloaded software, and is subject to change without notice due to software updates.