Motorola moto g power (2022)
Get it fast
Select shipping options at checkout. Subject to eligibility.
With up to three days of battery life1, moto g power lets you capture more without stopping to recharge. Tell your story in more creative ways with a 50 MP camera featuring Dual Capture. View games, movies, and video chats on an ultra-wide 6.5" HD+ display with a 90 Hz refresh rate. Hold what matters with 64GB of built-in storage. And enjoy the speed of an octa-core processor to power your journeys.
Reviews
2.0/5
22 reviews
14%
of reviewers recommend this product.
Garbage. Stay away
Richard Arch · 9 days ago
Extremely slow processing. Battery is decent. No NFC which isn't advertised. Very disappointed gave it a chance for a few months an it gets worse than better. Stay Away from this phone
Motorola Customer Care - 8 days ago
Thanks for letting us know about your phone's condition, Richard. We're very sorry to hear that you have encountered this kind of problem. We know how important your phone it is to you. We stand behind our products and we would like to help you get this sorted. Please write us an email at supportforums@motorola.com and we'll be assisting you from there. -Mitch

Low battery life, slow processing.
My husband and I each bought one of these phones. They are junk. It lags like an old computer that uses dial up internet. The battery lasts barely 12 hours with minimal use an battery saver on.
Motorola Customer Care - 28 days ago
Hi Leah, Thank you for reaching out to us, and sorry you're facing this issue. Our goal is the make our customers feel satisfied, and to provide a positive experience. We would like to try and help. Please email us at supportforums@motorola.com at your earliest convenience. -Mitch

Similar devices
Currently viewing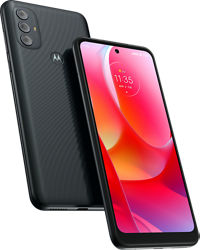 Motorola moto g power (2022)
Starts at
$6.94/mo
For 36 months, 0% APR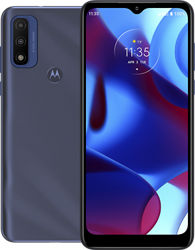 Motorola moto g pure
Starts at
$4.16/mo
For 36 months, 0% APR
Screen
6.5" HD+ Max Vision display
6.5" HD+ Max Vision display
Storage
64 GB (Subject to availability)
32 GB (Subject to availability)
Rear camera
13 MP camera system (2 MP depth sensor)
All battery life claims are approximate and based on the median user tested across a mixed use profile (which includes both usage and standby time) under optimal network conditions. Actual battery performance will vary and depend on many factors including signal strength, network and device settings, temperature, battery condition, and usage patterns.
Based on a typical one-minute video at 30FPS with FHD (1920x1080) resolution, a typical app with an average size of 80MB, and a typical MP3 file with an average size of 5MB, provided by available 115GB/50GB out of the box storage capacity. Actual numbers will vary and depend on many factors including file size, resolution, and other apps, games, photos, videos and songs utilizing storage capacity.
Water-repellent design creates a barrier to help protect against moderate exposure to water such as accidental spills, splashes or light rain. Not designed to be submerged in water, or exposed to pressurized water, or other liquids; may diminish over time. Not waterproof.