Meet the Nokia 8 V 5G UW, a smartphone outfitted with cutting-edge technology for next-level performance. Shoot sharp, smooth video and photos, even in low-light conditions with the PureView quad camera. Create and edit like a pro on the edge-to-edge 6.81" display. And unlock all the possibilities with ultra-fast 5G speeds for streaming, gaming and sharing in real-time.1 Do more of what you love with a long-lasting battery that lets you go all day and all night.3 Now with the coverage of 5G Nationwide and the unprecedented performance of 5G Ultra Wideband.1

This device supports 5G UW high-band (mmWave) only, 5G Nationwide and 4G LTE.
Reviews
50 reviews
of reviewers recommend this product.
Horrible
I never review phones but this one is explicitly horrible. Like everyone else has said, it has a horrible camera and is very laggy. This thing has a mind of its own, works great some days. For the price I paid, its ridiculous it is so slow. Power off and on once every two days if you must get this phone.
Nokia Mobile team - 2 months ago
We are always looking to improve our products and thank you for taking the time out to write us a review. Our phones are built with durability and affordability in mind. We would like to learn more about your experience. If you don't mind, please give us a call at +1-833-766-5420 anytime between 10 AM and 7 PM CST at your earliest convenience. You can also reach out to our support team online at www.nokia.com/phones/support.
The longer you have it the more disappointing it is
Low internal storage. New software doesn't allow you to store apps on the SD card now so basically that whole feature is pointless. Slow and laggy most of the time and the keyboard only types half of what I try unless you restart the phone at least once a day to refresh. Just overall for the price it's very disappointing. The best thing about the phone is the battery life. I can go well over 24hrs and that's with heavy use on social media and games. Overall, don't waste your money.
Nokia Mobile team - 2 months ago
Thanks for the feedback and sharing your thoughts with us. The microSD card support is to expand storage for images and videos and not for installing apps. Only the phone's internal storage can support app installation. If you are looking for phones with larger storage, we recommend checking out our full product range here: https://www.nokia.com/phones/en_us.
Similar devices
Currently viewing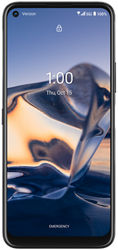 Nokia 8 V 5G UW
Starts at
$19.44/mo
for 36 months, 0% APR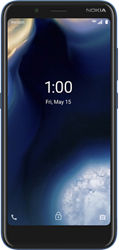 Nokia 2 V Tella
Starts at
$4.66/mo
for 36 months, 0% APR
Screen
6.81" HID display | FHD+ (1080x2400) | 386ppi | Aspect Ratio 20:9 | Gorilla Glass 5 | PureDisplay
Storage
64 GB (Subject to availability)
16 GB (Subject to availability)
Rear camera
64 MP Quad camera + 24 MP front facing
5G Ultra Wideband available in select areas. 5G Nationwide available in 2,700+ cities.
Based on independent testing.
Based on average battery life under typical usage conditions. Average expected performance based on typical use. Actual battery life depends on factors such as network, features selected, frequency of calls, and voice data, and other application usage patterns. Results may vary.