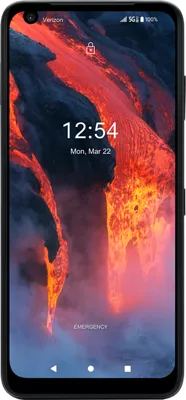 Meet the Orbic Myra 5G UW smartphone, a device with all the features you love at an affordable price. Enjoy a large LCD scratch-resistant display, a triple-rear camera system and fast speeds with 5G connectivity.1 The long-lasting battery will keep you connected during those busy days while on-the-go.2 And with a reasonable price tag you can take advantage of speed, power and quality while staying on budget. Now with the coverage of 5G Nationwide and the unprecedented performance of 5G Ultra Wideband.1
Reviews
28 reviews
of reviewers recommend this product.
Sucks
Hard to set up as per my preferences. Shuts off while driving and talking. Can't get to my saved pics through FB,!
CAN YOU HEAR ME NOW? ARE YOU THERE? HELLO?
I agree with several reviews regarding the extremely poor audio. Often times a caller can't hear me. When I dial they can't hear me until I've spent a few seconds "can you hear me?" Also the camera feature. Poor quality and now it won't open for use. Talked to a tech who said a recent upgrade probably affected it and I may have to wait until the next upgrade . Ugh.
1. 5G Ultra Wideband available only in parts of select cities. 5G Nationwide available in 2700+ cities.
2. Based on average battery life under typical usage conditions. Average expected performance based on typical use. Actual battery life depends on factors such as network, features selected, frequency of calls, and voice data, and other application usage patterns. Results may vary.