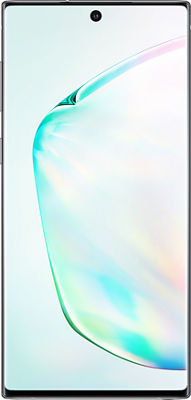 Customize
Monthly payments shown are for customers who qualify to pay $0 Down, $9.33/mo for 36 months; 0% APR. Retail price: $335.99. One-time activation fee of $35.
Introducing the Certified Pre-Owned Samsung Galaxy Note10. Built to impress, this trim and seamless smartphone features a super-fast processor and all-screen design with nearly zero bezel. Capture your next great creation using a cinematic camera with advanced video and photo editing tools. Enjoy a full day of power or more on an intelligent 3,500 mAh battery that adjusts to your routine.¹ And perform remote, intuitive gestures with the newest evolution of S Pen. Unleash the full potential of your Cerfified Pre-Owned Samsung Galaxy Note10 with Verizon, America's most awarded network.
Reviews
5 reviews
of reviewers recommend this product.
Gotta Love the Note
Yes, I'd recommend this product.
My first was the Note 2. Used it for 7 years before upgrading to the Note 8. To have 1 phone last you 7 yrs without replacement is extraordinary. My kids kept telling me to leave the dark ages... and to think I have a Motorola Brick what do kids now... anyway. Have the Note 10 for 2 yrs now how ever long they been out I was one of the first in my area to get it. And again still on my original phone. Love it.. Don't k ow were to go now if I need or when I need to upgrade again. Without a stylist and te big screen I will be amazed if Samsung can out do this one. The Notes Battery lifespans can't be touched I hope you can come up to those standards again. Loyal Samsung user to a fault. So all my apple kids say.. Thank you for all the years of building long lasting phones. Keep it up
Horrible phone
I always wanted a Galaxy Note; however, this phone is horrible. The camera and video is fuzzy and out of focus. Sometimes the screen would time out and not allow me to access any functions. I regret purchasing a used phone and can't wait to trade it in for a new and better model of phone.
Hi, Less 1!

Thank you for bringing this to our attention, as this matters to us. We apologize about your recent experience with our Galaxy Note 10 as the screen is acting up and wouldn't allow you to access any functions, same as the camera doesn't focus on the subject.


Please click on the link to help you troubleshoot your camera:
https://www.samsung.com/us/support/troubleshooting/TSG01001297/

Here's another link you can browse to help you resolve your screen function issue:
https://www.samsung.com/us/support/troubleshooting/TSG01213974/

You may as well visit this article to help you rectify when your screen freezes:
https://www.samsung.com/us/support/troubleshooting/TSG01001416/


Should you encounter the same issue, you may reach us via the following for immediate support:


1. Samsung Community: https://us.community.samsung.com/t5/Samsung-Community/ct-p/us
2. Facebook Messenger: http://m.me/samsungsupport
3. Twitter: https://twitter.com/messages/compose?recepient_ id=18768513


Thank you for choosing Samsung. Have a great day!

Reference Number:1144141001

^Chrystel
1 Based on average battery life under typical usage conditions. Average expected performance based on typical use. Actual battery life depends on factors such as network, features selected, frequency of calls, and voice, data, and other application usage patterns. Results may vary.
2 When using the included charger and cable.
3 Wireless PowerShare limited to Samsung or other brand smartphones and accessories with WPC Qi wireless charging. Check samsung.com for compatibility. May not work with certain accessories, covers or other brand devices. May affect call reception or data services, depending on your network environment. Speed and power efficiency of charge varies by device.
4 Samsung DeX sold separately. Requires compatible operating system and USB cable. See www.samsungdex.com for operating system and cable compatibility.

*Front Camera: 10MP (F2.2)
**Rear Camera specs: 16MP Ultra Wide (F2.2) + Dual 12MP Wide (F1.5/F2.4) + 12MP Telephoto (F2.1)