Samsung Galaxy Note8

Certified Pre-Owned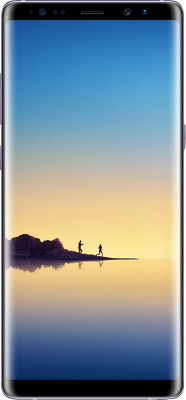 This device is no longer available for purchase.
Pairing your Samsung Galaxy Note8 with Verizon delivers power and performance on America's most reliable network. Easily navigate apps and multitask on a gorgeous 6.3 inch infinity display, take professional quality photos and zoom in without losing focus, brave spills and splashes, record spectacular 4K video and much more. A cutting edge, new S Pen enhances the experience beyond your fingertips, and expansive storage capabilities provide the space you need for photos, songs and videos. The Galaxy Note8 comes in 64GB and is available in Midnight Black or Orchid Gray. (Subject to availability)
Certified Pre-Owned. Our highly-trained technicians inspect and grade the cosmetic appearance of each used device to indicate if the condition is Like New, Great, Very Good or Good. We conduct extensive functional examinations on all used devices. This includes all internal and external functions such as buttons, audio, battery health, SIM card, camera and touch screen. We only approve used devices that score 100% functionality. Learn more about our
refurbished devices.
Reviews
start rating review 5.0 out of 5 stars
5.0/5
1 Reviews
100%
of reviewers recommend this product.
JOHN60401 - 1 month ago
Yes, I'd recommend this product.
*Water–resistant in up to 5 feet of water for up to 30 minutes.
**Varies with Always on Display setting.