Samsung Galaxy Note 9 (Certified Pre-Owned)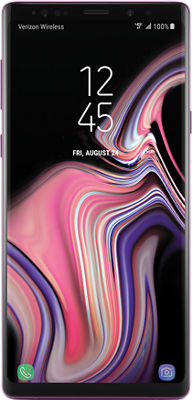 Customize
Monthly payments shown are for customers who qualify to pay $0 Down, $5.91/mo for 36 months; 0% APR. Retail price: $212.99. One-time activation fee of $35.
Get it fast
Select shipping options at checkout. Subject to eligibility.
With a bigger screen, faster processor and longer-lasting battery,1 the Certified Pre-OWned Samsung Galaxy Note9 is designed for ultimate performance. Control your smartphone remotely with the new and upgraded S Pen.2 Play music from every direction on the first Note device with stereo speakers. Create your own personalized emojis, record videos in stunning 4k UHD, take photos on a dual-aperture camera3 and more. Get the most out of your Samsung Galaxy Note9 with Verizon, the nation's largest and most reliable 4G LTE network.
Reviews
15 reviews
of reviewers recommend this product.
Note To Self
Yes, I'd recommend this product.
Note to self newer devices have less features than the Note 9 including among the Samsung line making the device one of a kind.
The Note 9 has never disappointed me. The best investment I have made in a cell phone.
Note 9 advocate · 1 month ago
Yes, I'd recommend this product.
I've had my note 9 since its inception. Over 4 years. I love, love, love this phone. I do not want to upgrade. I have searched and can't find a phone in comparison. The Note 9 is in a class all by its self. My package at purchase included the 512GB. This was important for me as a business owner. I take alot of photos, download apps, connecting with others etc. The features are awesome. This phone has go through thick and thin with me. It is beyond beyond beat up. I don't want to give it up cracks, scratches, dents and all... She in her Lavender attire belongs to me, with me and wors for me. RECOMMENDED above all other phones. My daughter who only purchase iPhone and has the latest will attest to the quality of this phone above all others. I hope this review help someone make the right decision about the Note 9 purchase...
1 Compared to the Galaxy Note8.
2 Samsung Account log-in and data network (Wi-Fi or internet connection) required. Translation speed may vary depending on internet connection and word count. This function is limited to selected languages. For the full list of languages, please visit www.samsung.com/galaxy
3 The Dual Aperture supports f/1.5 and f/2.4 mode. Dual Aperture is installed on the camera.
4 Dex and Cable (HDMI adapter) sold separately; compatible to Galaxy Note9 and Tab S4. Some functions may differ from DeX Pad/DeX Station.
5 Based on average battery life under typical usage conditions. Average expected performance based on typical use. Actual battery life depends on factors such as network, features selected, frequency of calls, and voice, data, and other application-usage patterns. Results may vary.
6 IP68-rated water resistant for up to 5 feet of water for up to 30 minutes. Rinse residue/ dry after wet.
7 Regular Slow-mo is 240 frames per second. Super Slow-mo is only available for up to 6 seconds of recording.
8 Galaxy Note9 can capture in 4k video but screen does not play back in 4k.
9 Samsung Pay is only available in select countries, with certain devices, features, card issuers and merchants.