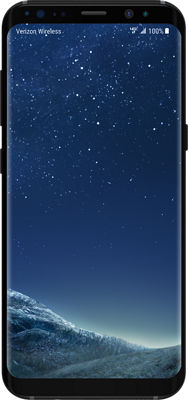 Customize
Monthly payments shown are for customers who qualify to pay $0 Down, $3.63/mo for 36 months; 0% APR. Retail price: $130.99. One-time activation fee of $35.
Certified Pre-Owned. Samsung Galaxy S8 CPO has the cutting-edge features you need to do the things you love faster, easier and better. An eye catching, 5.8" inch curved display goes all the way to the edge, so you can see more. The 12MP camera and advanced processor takes sharp, clear photos faster. Introducing Bixby - Samsung's new intelligent interface that is able to navigate easily through services and apps so that users can experience more with their phones. A phone this advanced deserves a network that can keep up. The Galaxy S8 comes in 64GB. Available in Orchid Gray, Arctic Silver or Midnight Black (subject to availability).
Reviews
12 reviews
of reviewers recommend this product.
Best phone ever
Baochaotao · 4 months ago
Yes, I'd recommend this product.
I've had my Samsung Galaxy S8 since it's release. I bought it from a Verizon store-front, in the local mall. It came with a VR headset and controller. I got it- to keep in contact with my Mom. I was travelling from California to Europe, for the first time, all by myself. As a Pre-Teen. Genuinely, this is the best phone I've ever had, and one of the best decisions I have made. It came out at the time; with "All the newest features" Which by todays standards, still make it a very competitive phone. In many comparisons, analytically "Better" as well! This phone was made with "The future" in mind- and it shows. From the curved screen, to IR Iris scan. Fingerprint scanner on the rear. No buttons on the face. Truly a future-proof device. I've upgraded it with storage & a Bigger battery. And replaced my screen once, from neglectfully dropping it onto the concrete. It's still fast, very sharp. And has been a companion of mine for years- and for years to come. I'm considering an upgrade, not for awhile,- but even then when I do, I will always keep this phone on me. These newer Galaxy's have been catching my eye. I think I'll wait a little longer, though.
Love my s8!
Just Carrie · 4 months ago
Yes, I'd recommend this product.
I have had my Samsung Galaxy s8 now for 8 years! Yes 8 years! This phone has held up so well, I can't even imagine having to buy another phone. It is small enough to carry in my pocket, yet large enough to do and see everything I need to do on it. The camera is great and the updates are even better. I would put it up against an iPhone anytime. Most of my friends have iPhones and laugh when I pull mine out. They think it's strange that I still have it, let alone still love it. I have seen these friends have issues with their iPhone's time and time again, and spend constantly to get the latest and the greatest. I'll keep enjoying this s8 for as long as I can. VERY pleased with Samsung.
*5.8" (full rectangle) / 5.6" (rounded corners) Quad HD+ Super AMOLED Display. Full rectangle measured diagonally and rounded corners measured diagonally.
**Varies with Always on Display setting
‡ Mobile HDR Premium certified by the UHD-A.
§Products sold separately. Gear VR not for children under 13. Read included health and safety warnings before use and see oculus.com/warnings.

Samsung, Galaxy S8, Gear 360, and Gear VR are trademarks of Samsung Electronics Co., Ltd. Use only in accordance with law. Other company and product names mentioned may be trademarks of their respective owners.