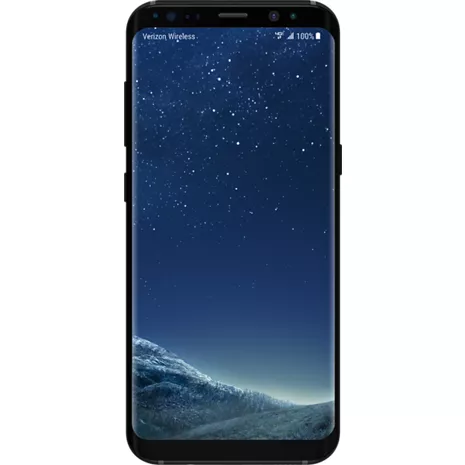 This item is online only.
Certified Pre-Owned. Samsung Galaxy S8 CPO has the cutting-edge features you need to do the things you love faster, easier and better. An eye catching, 5.8" inch curved display goes all the way to the edge, so you can see more. The 12MP camera and advanced processor takes sharp, clear photos faster. Introducing Bixby - Samsung's new intelligent interface that is able to navigate easily through services and apps so that users can experience more with their phones. A phone this advanced deserves a network that can keep up. The Galaxy S8 comes in 64GB. Available in Orchid Gray, Arctic Silver or Midnight Black (subject to availability).
Reviews
59% of reviewers recommend this product.
Isn't what I thought sssss
The phone cables that were sent didn't even work. and the screen color is off.
Great phone, battery life stinks sssss
Battery life is horrible, but then again it is a refurbished phone so I don't have a good one to compare it with, this is a Verizon refurbished phone as well
Samsung - 1 month ago
Hi Raymond... Thank you for your feedback on the Samsung Galaxy S8. Your thoughts are appreciated as we strive to innovate and improve on the design and functionality of our products. When you get a moment, look at these articles to help elongate the battery life of your device. "Apps are draining battery on Galaxy phone or tablet", "Galaxy Battery - Optimization", and "Get the most out of your Galaxy phone's battery". Please feel free to reach out to Samsung Support, if you need additional assistance. Thank you for being a valued customer. –Bethany
*5.8" (full rectangle) / 5.6" (rounded corners) Quad HD+ Super AMOLED Display. Full rectangle measured diagonally and rounded corners measured diagonally.
**Varies with Always on Display setting
‡ Mobile HDR Premium certified by the UHD-A.
§Products sold separately. Gear VR not for children under 13. Read included health and safety warnings before use and see oculus.com/warnings.

Samsung, Galaxy S8, Gear 360, and Gear VR are trademarks of Samsung Electronics Co., Ltd. Use only in accordance with law. Other company and product names mentioned may be trademarks of their respective owners.