Samsung Galaxy S9+

Certified Pre-Owned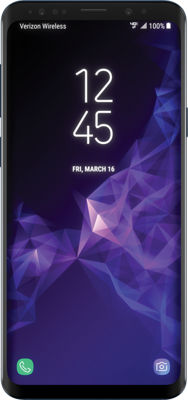 This device is no longer available for purchase.
The new Samsung Galaxy S9+, on the best network. A powerful dual camera that can record in super slow-mo and capture 4k video in true-to-life detail. Stay entertained on an edge-to-edge Infinity Display. Translate languages with Bixby¹ and unlock your phone using advanced facial recognition. Experience the next evolution of the Samsung Galaxy. Samsung Galaxy S9+ comes in midnight black, lilac purple and coral blue colors (subject to availability).
Certified Pre-Owned. Our highly-trained technicians inspect and grade the cosmetic appearance of each used device to indicate if the condition is Like New, Great, Very Good or Good. We conduct extensive functional examinations on all used devices. This includes all internal and external functions such as buttons, audio, battery health, SIM card, camera and touch screen. We only approve used devices that score 100% functionality. Learn more about our
refurbished devices.
Reviews
start rating review 4.1 out of 5 stars
4.1/5
9 Reviews
78%
of reviewers recommend this product.
Best phone yet
Lyndsey - 13 days ago
Yes, I'd recommend this product.
Best smartphone yet. Can take a beating and a bath and keeps ticking. Only phone I've had that has lasted through all my drops.
Best S model Samsung out there !!!
Rundunnyrun - 13 days ago
Yes, I'd recommend this product.
Love this phone ! Its easy to navigate, I'm 61 and smart phone challenged, the camera is amazing !! Its fast and responsive. The screen doesn't appear to be really fragile either cause I dropped it < 3ft and nothing happened. I don't know why when a company has something that works they always try to improve it !! Most of the reviews on the S20 and S20+ aren't that great. If its not broke, don't fix it !!
Best Phone I've Had Since Brick Phones
FrankiePG - 13 days ago
Yes, I'd recommend this product.
I've had this phone for a couple years and I'm nearly sad to be departing from it since there are cracks in the front and back. Very minimal problems and where there are all I have to do is check for updates and restart.
Great phone
Sel12 - 20 days ago
Yes, I'd recommend this product.
I love this phone great video and audio quality easy to use I always loved using samsuang products
Best phone made
Jim82 - 13 days ago
Yes, I'd recommend this product.
This phone works amazing! Never had any issues! Love this phone.
This phone has been good to me
Tony G - 13 days ago
Yes, I'd recommend this product.
The features on this phone have been convenient and useful! Good size (I did have to get use to it lol) and it never gave me any issues until this month unfortunately. I had it since 2018 and of course 2021 would be the year it acts up on me. I'm currently dealing with the issue of it randomly shutting off on me when it's not in use. But as I did mention, it hasn't given me issues in the past. I guess it is about that time to upgrade though. If I could, I'd definitely keep using it longer!
1. Samsung Account log-in and data network (Wi-Fi or internet connection) required. Translation speed may vary depending on internet connection and word count. This function is limited to selected languages. For the full list of languages, please visit www.samsung.com/galaxy.
2. The Cat. 18 modem allows for up to 20% higher max data transmissions than the Samsung Galaxy S8's Cat. 16 modem. The Samsung Galaxy S9+ also supports additional network bands and enhanced 4x4 MIMO/CA (carrier aggregation).
3. In comparison to the Samsung Galaxy S8.
4. Dual aperture on rear lens only.
5. Rear camera only.
6. Only on select apps.
7. Wireless charger sold separately.
8. Water resistant in up to 5 feet of water for up to 30 minutes. Rinse residue/dry after wet.
9. MicroSD card sold separately. Samsung Galaxy S9+ comes with 64GB of storage.
10. Based on average battery life under typical usage conditions. Average expected performance based on typical use. Actual battery life depends on factors such as network, features selected, frequency of calls, and voice, data, and other application-usage patterns. Results may vary.
11. DeX sold separately. Works with compatible devices.