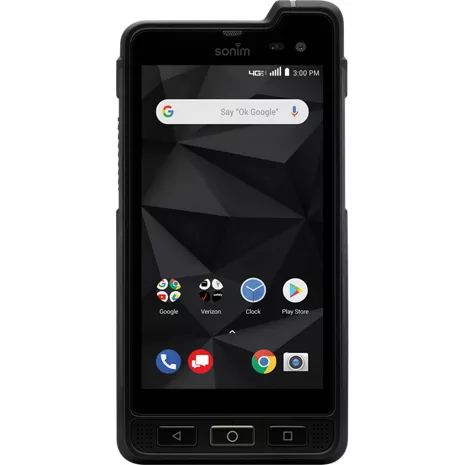 Ultra-rugged, ultra-smart and built to endure the most hazardous environments. The Sonim XP8 smartphone features intuitive controls and a responsive touchscreen perfect for gloved or wet fingers. A 4900 mAh battery keeps you going for up to 35 hours of talk time* while a 100 dB+ speaker makes it easy to hear in even the loudest workplaces. Stay in control with advanced productivity applications, Push-To-Talk and a dedicated red alert button for emergency conversations. Verizon is your destination for the hottest phones like the Sonim XP8, all on the nation's most awarded network.
Reviews
41% of reviewers recommend this product.
Excellent battery life, practically bulletproof sssss
Sirswerdna . 2 months ago
Yes, I'd recommend this product.
I like the tactile buttons. It is bulky and heavy, but is also extremely durable, water resistant, and "spark" resistant. I always joke that if were in a rollover car accident, I could use this phone to break the glass and escape. Please Verizon, get the XP10 so I can enjoy me some 5G!
As expected sssss
Yes, I'd recommend this product.
I like a heavier phone, which it is. It also is very durable, except for the rubber trim around the screen that has all peeled off. Mine is 3 years old Camera sucks too many lighting and focussing options. Cant just point and shoot. I dont use the second sim card option or ptt option
*Based on average battery life under typical usage conditions. Average expected performance based on typical use. Actual battery life depends on factors such as network, features selected, frequency of calls, and voice, data, and other application usage patterns. Results may vary.