Due to inactivity, your session will end in approximately 2 minutes. Extend your session by clicking OK below.
Due to inactivity, your session has expired. Please sign in again to continue.
Jetpack Digital Presentation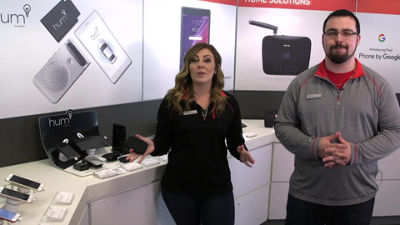 Get fast and reliable internet connection where ever you go with a Jetpack. Watch this video to learn more.
jetpack-digital-presentation-video:

Video Transcript
Jetpack Digital Presentation (1:33)
Today we are so excited to share with you some information about the Verizon Jetpack. You may have heard it called a Hotspot. If you need fast and reliable internet connection wherever you go, then this is the solution for you.

With Verizon's fast and reliable network, you will have high performance Internet when and where you need it.

Absolutely, Madison. Just turn it on and connect your laptop, tablet, or any wi-fi enabled device, and that's it! You're connected and can stream videos, send emails, and a whole lot more at lightning speeds.

And as you can see the Jetpack comes in a convenient easy to carry package that can be stored in your purse or suitcase. It provides internet for several devices at once so you can share with friends or colleagues as needed.

What a great solution for our customers, Madison! Think about your last family road trip or vacation. How did everyone stay entertained? With the Jetpack's great battery life, you and your kids can stay connected for hours while playing games and streaming video while on the road.

That's right, Cameron. And it's even a great solution for businesses. Every business owner would agree that you need wi-fi you can depend on. In today's world you don't want your information on an unsecure or unstable wi-fi network. A Verizon Jetpack will give you that peace of mind, knowing that all your information is safe and secure, and at the end of the day you and your business will be productive from almost anywhere.

There's a lot to be excited about with the Verizon Jetpack: Performance and convenience packed into one portable Hotspot. Whether you're traveling for work or for pleasure, you can count on this device to keep you connected.

Connect with us on Messenger

Visit Community
24/7 automated phone system: call *611 from your mobile