Due to inactivity, your session will end in approximately 2 minutes. Extend your session by clicking OK below.
Due to inactivity, your session has expired. Please sign in again to continue.
Samsung Galaxy Note10+ 5G & Family: Features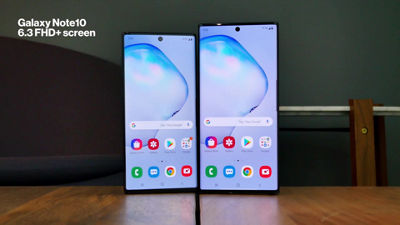 Alright, let's take a closer look at some of the best features for the Galaxy Note10 series.
samsung-galaxy-note-10-features-video:

Video Transcript
Samsung Galaxy Note10+ 5G & Family: Features (3:30)
Samsung brings three different models to 2019's Galaxy Note lineup, the Note10, the 10+, and the 10+ 5G.

There are two sizes, the Note10 with a 6.3 inch FHD+ screen and the Note10+ with a 6.8 inch WQHD + screen. The Note10+ 5G is the same size as the 10 +, with 5G built in.

Samsung designed this to be a seamless all- screen smartphone, and with a super-fast octa-core processor and a generous amount of onboard RAM memory - 8Gigabytes for the 10 and 12Gigabytes for the 10+ and 10+5G models, this phone is super fast.

There is also an intelligent battery that learns your routines. This allows the Note to know when you normally wouldn't use an application, and close it or put it to sleep which saves you battery power The Superfast 25 watt charger that comes with the phone will give the Note10's 3500mAh battery a 50% charge in just 30 mins, and a 63% charge in 30 mins for the Note10+ and 10+ 5G's 4300mAh battery.

The Cinematic Infinity Display is an AMOLED+ screen with nearly invisible bezels and was designed to elevate your entertainment experience. With dynamic tone mapping this screen displays contrast and tone how it was meant to be seen.

In any light the high-powered studio lenses can capture clear photos. All Note10 models comes with a 12MP Wide, 12MP Zoom, and 16MP Ultra Wide camera that can focus on an up close object with detail or capture a whole scene.

The Note10 series comes with Audio Zoom which uses 3 separate microphones. When you zoom in and out during video capturing the audio zoom will change and refocus the range of where sound is captured, matching the video.

That classic Samsung S Pen has been updated for the Note10 series with more bluetooth gestures so it gives you more ways to control the Note10 without even touching the screen

Even with the phone locked, you can take notes on the screen now, just remove the S Pen and start writing. Once the S pen is inserted back into the phone it will save those notes for later.

Wireless powershare is included with all versions of the Note10. It's a great convenient features to give a power boost to any of your wireless charging capable devices. Just turn the feature on, flip your Note over and place your wireless charging capable device on the back and watch it charge up.

DeX Live for PC and MAC give an extra level of functionality with the Note10 series. With the software installed on your computer, just plug in your Note10 series. You'll be able to access many of your applications and see files like your videos and photos, all while still being able to use your device.

The new Note10 and the Note10+ have all the features one would expect from a Galaxy Note Series, and with the 10+ 5G model's built in 5G, you will be ready to experience Verizon's lightning-fast 5G Ultra Wideband network.

Connect with us on Messenger

Visit Community
24/7 automated phone system: call *611 from your mobile