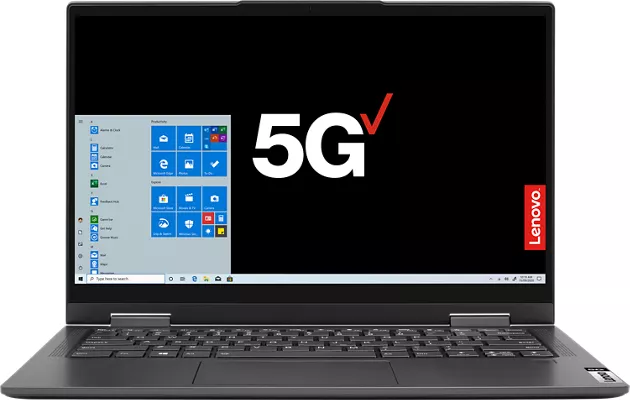 Monthly payments shown are for customers who qualify to pay $0 Down, $38.88/mo for 36 months; 0% APR. Retail price: $1399.99. One-time activation fee of $35.
Introducing the Lenovo Flex 5G, the World's first PC with lightning-fast 5G connectivity.1 Designed exclusively for Verizon, this slim, eye-catching 2-in-1 comes packed with the unmatched power, speed and efficiency of a 2.84GHz Qualcomm® Snapdragon™ 8cx 5G Compute Platform. Experience all-day power2 and convenience on an ultra-portable PC that revolutionizes how you work and play. The Lenovo Flex 5G brings cinematic entertainment on the go. Now with the coverage of 5G Nationwide and the unprecedented performance of 5G Ultra Wideband.1

This device supports 5G UW high-band (mmWave) only, 5G Nationwide and 4G LTE.
Reviews
63 reviews
of reviewers recommend this product.
exceptional
Yes, I'd recommend this product.
I have the laptop its worth the expence. I am a school teacher and a university student. It keeps up with my busy llife style. I am able to help my students on their chromebook from my Lenovo fix their problem or help them out and switch back and forth with no issues more than I can say for the Dell laptops we have at the school. Also its comes with its own service and able to connect via cell service data only. I love it.The only issue I have is the screen tends to break way to easy someone needs to come up with a screen saver and case for it. but I love it.
LenovoProductExpert - 21 days ago
Thank you for choosing the Lenovo Flex 5G, convertible 2 in 1 laptop. We are pleased to hear that the features and performance of the Flex 5G meets your computing needs so well. You can use a universal laptop case to help protect your Lenovo Flex 5G while on the go, like one of these: https://www.verizon.com/onesearch/search?q=laptop%20case&src=wireless
Great laptop on the go
Silvsurfer21 · 1 month ago
Yes, I'd recommend this product.
This lil beast gets the job done having the ability to use the tablet on the job site. Zoom in and out on plans and search for information, complete emails plus battery life depending on use it charge it once a week to 3 times a week. Only draw back os finding a case to protect this valuable tool. If anyone know where I can find one comment below.
LenovoProductExpert - 12 days ago
Thank you for choosing the Lenovo Flex 5G Verizon model. You can use any 14 inch or larger universal laptop case with this Flex 5G model.
1. 5G Ultra Wideband available in select areas. 5G Nationwide available in 2,700+ cities.
2. Based on average battery life under typical usage conditions. Average expected performance based on typical use. Actual battery life depends on factors such as network, features selected, frequency of calls, and voice, data, and other application usage patterns. Results may vary.
3. 1-year Microsoft 365 Personal subscription included. Must activate within 6 months of Windows activation. Credit card required. Unless canceled, subscription fees apply after the first year.