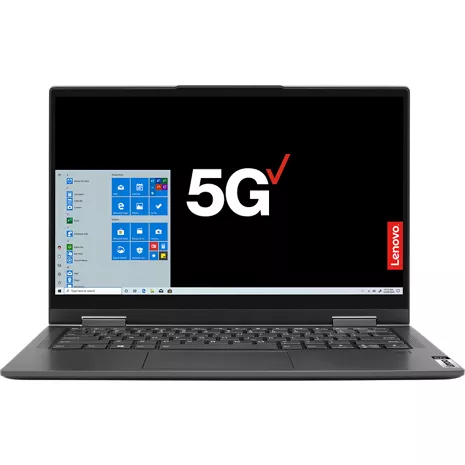 Introducing the Lenovo Flex 5G, the World's first PC with lightning-fast 5G connectivity.1 Designed exclusively for Verizon, this slim, eye-catching 2-in-1 comes packed with the unmatched power, speed and efficiency of a 2.84GHz Qualcomm® Snapdragon™ 8cx 5G Compute Platform. Experience all-day power2 and convenience on an ultra-portable PC that revolutionizes how you work and play. The Lenovo Flex 5G brings cinematic entertainment on the go. Now with the coverage of 5G Nationwide and the unprecedented performance of 5G Ultra Wideband.1

This device supports 5G UW high-band (mmWave) only, 5G Nationwide and 4G LTE.
Reviews
57% of reviewers recommend this product.
Worst computer I've ever had sssss
Disgruntled customer . 1 month ago
I've only had one other laptop, but I've had several desktops. This is the first time I've had a Lenovo, and I got this one because I didn't want a chromebook, and this was the only option through Verizon at the time. The keys are huge, like made for a big man, and I'm a small woman. I type fast but these keys are sticky, even though it should be a clean keyboard, so my typing speed sucks. It loses it's charge fast, even when in sleep mode. I can't believe I agreed to pay so much for something I dislike so much. Making payments on it means I have to pay for a line, and I can't even get 5G where I am, in the middle of DFW! What a waste.
Excellent mobile option sssss
Yes, I'd recommend this product.
I've had a Flex 5G for almost 2 years. Initially I was a bit let down with some of the application compatibility that others have mentioned. But it was a great choice for always connected access (as long as there is cellular). I purchased it because I started an online graduate program and would need access while camping, at the baseball field, or wherever I happened to be. It's not a high-performance computer, but it will meet 80%(+) of most requirements outside of gaming and high-end graphics design work. If you have one of these, upgrade to Windows 11!! Almost all of the compatibility issues go away under Windows 11. The factory installed Windows 10 runs "emulated" and there are some compatibility issues. The Windows 11 upgrade will install a native ARM64 OS (the same version that Surface Pro's run) that works so much better. You won't be disappointed.
LenovoProductExpert - 12 days ago
Hello, MillerS, thank you for choosing Lenovo! We appreciate you sharing your experience and are glad to hear that the features and performance of your Flex 5G meets your needs well.
1. 5G Ultra Wideband available in select areas. 5G Nationwide available in 2,700+ cities.
2. Based on average battery life under typical usage conditions. Average expected performance based on typical use. Actual battery life depends on factors such as network, features selected, frequency of calls, and voice, data, and other application usage patterns. Results may vary.
3. 1-year Microsoft 365 Personal subscription included. Must activate within 6 months of Windows activation. Credit card required. Unless canceled, subscription fees apply after the first year.