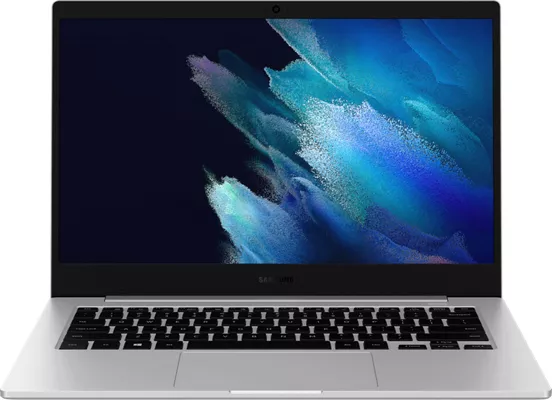 Monthly payments shown are for customers who qualify to pay $0 Down, $19.44/mo for 36 months, was $22.22/mo; 0% APR. Retail price: $799.99. One-time activation fee of $35.
Introducing the Samsung Galaxy Book Go 5G, a laptop designed to help you work and play smarter. Powered by Qualcomm® Snapdragon™, it delivers a responsive, instant-on performance that uses less power and keeps the battery charged longer. Connect anywhere and discover a whole new era of mobile computing with the power of 5G.1 The long-lasting battery lets you stay cord-free so you can work comfortably anywhere.2,3 Seize your day now with the lighter, quieter laptop that makes it easy to grab and go. The Galaxy Book Go 5G is the new way to PC. Now with the coverage of 5G Nationwide and the unprecedented performance of 5G Ultra Wideband.

This device supports 5G UW high-band (mmWave) only, 5G Nationwide and 4G LTE.
Reviews
37 reviews
of reviewers recommend this product.
Don't waste your time
This thing was awesome at first got one nov 2021. Well July 30 2022. Guess what. Cpu drive arm its toast. Stupid here went and got another one thinking Samsung would honor the warranty. Pfft. Stuck with 2 that don't work, financed
Bricks itself
windows 10 would not run my 64-bit applications. waited months for the windows 11 upgrade to become live. windows 11 unable to run any opengl software. on restart, the computer decided to install a "touchpad firmware" update. after that, the system would not restart, was unable to "uninstall qaulity updates", uninstall feature updates or reset this pc. it is bricked. for price, poor screen and performance was expected, but this is e-waste.
Social Commerce - 1 month ago
Chris, thank you for your feedback about your Samsung Galaxy Book Go. If you haven't already we would recommend reaching out to the Samsung Support or Customer Care+ Teams to assist you in troubleshooting your device and get it running at full functionality. Please feel free to reach out to us with any further questions regarding your Samsung products. –Elizabeth Product Warranty smsng.us/Warranty-Info Samsung Support smsng.us/Samsung-Support Customer Care+ smsng.us/Samsung-Care-Plus Samsung Community smsng.us/Samsung-Community Facebook smsng.us/Facebook-Messenger Twitter smsng.us/Twitter-Messages
1. 5G Ultra Wideband available in select areas. 5G Nationwide available in 2,700+ cities.
2. Based on average battery life under typical usage conditions. Average expected performance based on typical use. Actual battery life depends on several factors and other application usage patterns. Results may vary. 19-hour battery life once fully charged.
3. When using the included charger and cable.