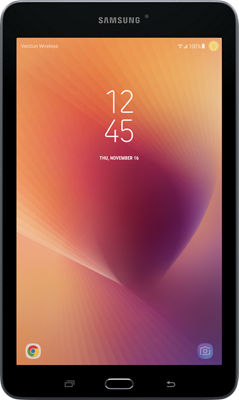 This device is no longer available for purchase.
Delivering a world of experiences for the entire family, think of the Samsung Galaxy Tab E as your own portable entertainment center. Catch up on shows. Stream music. Snap photos. All on the go. With a beautiful 9.6–inch HD display and fast Verizon 4G LTE, this tablet offers the perfect combination of versatility and value. The Samsung Galaxy Tab E comes in 16GB and is available in Black. (Subject to availability)
Reviews
start rating review 4.5 out of 5 stars
4.5/5
1088 Reviews
95%
of reviewers recommend this product.
Give it a chance. It's amazing!
Flyrh8r - 4 years ago
Yes, I'd recommend this product.
The Galaxy tab E is actually my favorite of all the Samsung Tablets. First of all I LOVE the aspect ration on this. For you sports fans or those who use the tablet for video/movie watching this is stellar. It gives you a true widescreen effect without having those annoying black bars at the top and bottom of the screens. When you select full screen it actually takes up the entire screen. The image quality is beautiful. It's the big brother to the Tab 4 8.0
Hidden gem
Embelism - 1 year ago
Yes, I'd recommend this product.
This tablet wasn't heavily advertised but it's an amazing value for what you get. The enormous battery let's you play for hours upon hours. I'm impressed with the screen resolution quality. The camera, not so much but this isn't a device you'd use to take photographs much. The speaked are okay. Mine doesn't hum or buzz like others have claimed nor does it lag when I play music. I assume they received bad tablets. Love the Milk music feature. I bought this in November 2015 and have been very pleased with it. A hidden gem.
This tablet is easy to use.
dwdandy - 5 years ago
Yes, I'd recommend this product.
I bought one for my wife and she liked it so much I bought one for me. Love it.
Great tablet
Msmaur - 4 years ago
Yes, I'd recommend this product.
I had bought the ellipsis before and brought it back and took this...wow what a difference...only thing I'd probably trade for is the S2 but that's not in the budget right now.
This is another great Samsung Product!
JBGK - 4 years ago
Yes, I'd recommend this product.
This tablet is great. Samsung has the best phones & tablets.
I like tablet this very much. Much easier to use than my old one.
Rabby - 4 years ago
Yes, I'd recommend this product.
The resolution is great, the system is very speedy and overall I'm very happy with it.
* microSD card sold separately.
† Portion of memory occupied by existing content.
LTE is a trademark of ETSI.
© 2015 Samsung Electronics America, Inc. Samsung, Samsung Galaxy, Samsung Galaxy Tab and Samsung Galaxy Essentials are all trademarks of Samsung Electronics Co., Ltd. Use only in accordance with law. Other company and product names mentioned may be trademarks of their respective owners. Screen images simulated. Appearance of device may vary.