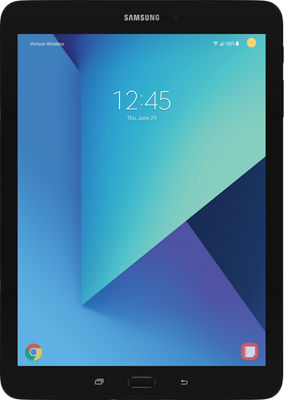 This device is no longer available for purchase.
Samsung Galaxy Tab S3 redefines what you can do with a tablet. The vivid display features high dynamic range (HDR) for deeper contrast and richer, more accurate colors, so you can watch movies in all their cinematic beauty.* Pick up the S Pen to write, draw and navigate naturally. The S Pen detects pressure and angles to reproduce the feel of real-world pens and brushes. An innovative Quad speaker audio system adjusts to the device's orientation to deliver true stereo sound no matter the position.
Reviews
start rating review 4.5 out of 5 stars
4.5/5
34 Reviews
94%
of reviewers recommend this product.
It just does everything
docsayler - 3 years ago
Yes, I'd recommend this product.
I've been eagerly awaiting this tablet on Verizon. I have the non LTE tab S3 now and it's by far the best tablet on the market. Fast,,flawless and superb.
Fantastic Tablet
jleever6000 - 1 year ago
Yes, I'd recommend this product.
I purchased the Tab S3 to replace my aging Tab S 10.5 The speed, screen, audio of this device is a huge improvement of the previous model. I would absolutely recommend to anyone looking for a non apple high end tablet.
Finally on Verizon
Shy808 - 3 years ago
Yes, I'd recommend this product.
Its finally here. I have officially replaced all my apple products with Samsung. The switch over from Apple has been seamless. I started out with my S8+, than I replaced my apple watch the Gear S3 Verizon version which is amazing. Now my new Tab S3 will replace my iPad Pro 12.9. The features in the tablet is amazing. Starting with Fast Charge. OMG i would wait for hours for my ipad pro to charge. Samsung makes it so simple and Fast just how i like it. The resolution is crazy and the fact that you can expand your storage is a benefit in one. This tablet accompanied with the optional keyboard case is crazy good. I find myself playing with my tablet more than i used to. I am so glad verizon decided to carry this tablet. I dont like the Wifi version tablets I always purchase the tablet with connectivity. Build quality and product is amazing. I would recommend this tablet to anyone looking for a change and looking for innovation. Its everything in one,
I have owned probably 6 different tablets from Samsung. I must say that this puppy is the ABSOLUTE BEST one yet!!
Bigmike44 - 2 years ago
Yes, I'd recommend this product.
I had very high expectations from this tablet after doing all of my "research" for it! I have to say, it did not disappoint.. This baby has everything you could possibly need AND MORE.. The screen, picture, are the sharpest and clearest yet. The S pen is a real treat to have also. If you are on the fence about tablets. This tablet WILL NOT let you down..
Finally a Tablet Worth Buying
DISCMANJEFF - 2 years ago
Yes, I'd recommend this product.
This Tablet deserves a double Thumbs Up... It's Fast - Great HD Display - Good battery life for a High Definition picture and Quad Core Processor.... The Tablet rings when my phone does, so if I'm using the tablet I don't have to put it down to answer the phone. Even when the phones off I can answer and make calls on it. The Quad speaker system is the best ever. It seems like the sound is coming from the middle of the screen. The Pen is awesome. The Camera is good... except in lower light situations but that is not a real concern. Did I say it was Fast..... My Rating is AAA+++
Awesome
ScoobyDooMan - 2 years ago
Yes, I'd recommend this product.
Wow this thing is really something. The more I fool around with it the capabilities I find it has. The battery life seems like it is all it's cracked up to be. The sound is great. The screen is so vivid. I have an S8+. Syncing up was easy. The note thing with the s pen really work's. My only knock on it is there's no place to keep the s pen with it. That said I'm really glad I made the purchase.
*HDR video playback works only with supported HDR content. †Based on laboratory testing. Results may vary. Battery power consumption depends on usage patterns.