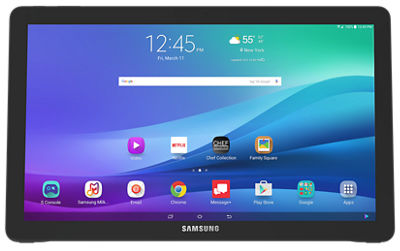 This device is no longer available for purchase.
The Samsung Galaxy View's dynamic 18.4–inch touchscreen, combined with its portable design, provides an immersive big–screen experience and the portability of a tablet in one sleek unit. Powerful speakers deliver sound that brings the picture to life. The Android interface is easy to navigate...just swipe and tap to switch between apps, live TV, streaming video and the Internet. The Samsung Galaxy View comes in 64GB and is available in Black. (Subject to availability)
Reviews
start rating review 4.7 out of 5 stars
4.7/5
294 Reviews
93%
of reviewers recommend this product.
Samsung Galaxy View
JJones81865 - 1 year ago
Yes, I'd recommend this product.
I have had the View roughly three weeks now and I just love it. I bought it as a media player for my bedroom. Now I find myself carrying it around everywhere. Streaming Netflix, Hulu and Vudu works perfect. I did a lot research before buying and the one thing I can say is that it works great as a tablet as well. Contrary to what some reviews say on line. It does everything my desktop does just as fast. As far as the kickstand goes, I had doubts about that and was just gonna remove it, but now that I have had it awhile the kickstand really works well. I would say it was very well thouget out and will not be removing it now. The speakers and screen quality are excellent as well. I use Spotify for music and the sound quality is really good. So if your thinking about getting one I would highly recommend it.
Even better than I thought it would be. (Remote Desktop Client)
I wanted this for one reason, I thought the huge screen and battery life would make this the ultimate remote desktop client. It has fulfilled and surpassed my expectations. When the Note Pro came out, I thought it was going to be the answer to my problem but even at 12.2 inches the desktop was too small and no fun. I tried the giant iPad pro for a few days and it was no better. The View is amazing, it's like the screen was made for remote use. Everything fits and is easy to manipulate. I have a mouse and keyboard for it but I don't use it very much. It just works. Don't be discouraged by the people complaining about the resolution and pixel density. When you're watching youtube or any HD videos the 1080p is as awesome as it was before all of the 4k displays came out. It's not a powerhouse, but it doesn't need to be. It runs smooth and fast. If you have a Galaxy View, an IPad Pro and a Galaxy Note Pro in your house, I guarantee your family will fight for the view. The last time I was this excited about a device was when the first iPhone came out.
Don't be scared by the kickstand you can remove it
I was apprehensive about buying this because of how big it was and the unremovable kickstand but I bought it anyways and I love it. Nice big screen. Easy to use and I googled how to remove the kickstand and it's actually pretty easy to take off and put back on.
Samsung Galaxy View 18.4 64gb
It is a lot better then some of the reviews I seen on some other sites. I just recently got this tablet & I'm glad I did. It is a nice large tablet . It has a built on stand which at first was awkward, but once I got use to it I was glad it was on there. It is very fast & has a 8 core processor. I down loaded some different tv & movie apps from Google play watch 2 different movies & there wasn't any lag or freeze ups. The picture was great . One was even in HD. The way the stand is on this tablet I set it on the nightstand & I was able to watch a movie in the bedroom where I didn't have a tv. I bought a case for it on another site which was perfect for it. The speakers sound good one this tablet , it has 64gb of storage which you can add up to 128gb micro SD card to it. It has 2gb of memory which might not seem like much, but it is more than enough to due the job . It has Bluetooth, so you can add a Bluetooth mouse & keyboard if you want.
Galaxy View 18.4 Tablet
Jarhead Vietnam - 4 years ago
Yes, I'd recommend this product.
I bought this about 2 months ago for my wife. She loves it, uses it all the time. My granddaughter loves it also. My wife and granddaughter play their games with no video problems. My wife uses it when we travel.
2526247731
Evatte - 1 year ago
Yes, I'd recommend this product.
Loving this tablet it's great for movies ,work and so forth
* Battery power consumption depends on factors such as network configuration, carrier network and signal strength.
**Connect with Verizon 4G LTE or Wi-Fi.