Best fitness trackers for a healthier you
Verizon has the new Apple Watch Series 7 available for order. The 2021 Apple Watch features faster charging and innovations in health tracking. Learn more and order the Apple Watch Series 7 today.
Did you know Verizon offers several wearable fitness devices to help you achieve your goals?
Perhaps your motivation to work out is lost in the couch somewhere with the remote. But a growing number of fitness trackers can help. By counting steps, calories and your heart rate, these health bands offer numbers and reinforcement to help you set and achieve your workout goals every day.
Each of these fitness wearables stand out in different ways, so find the one that'll "fit" you best!
Track your fitness routine, monitor your health and set personal bests with health monitoring features that provide advanced insights. You can also customize the watch face and choose from interchangeable bands. Plus, the long-lasting battery keeps your watch fueled during long days.
Coolest feature: Leave your phone at home while still getting calls, texts and notifications with LTE connectivity. 
Best for: Users who want a stylish smartwatch that can multitask between fitness goals and daily activities.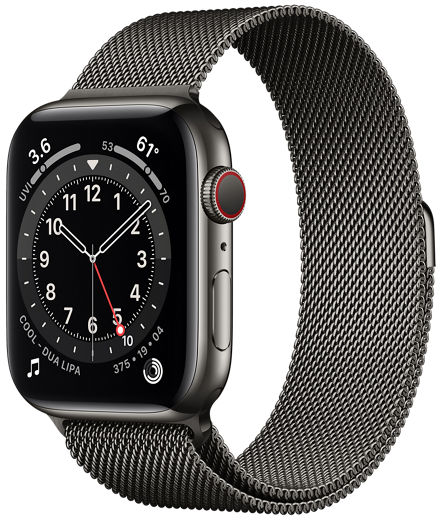 The Apple Watch Series 6 lets you measure your blood oxygen level, take an ECG from your wrist and see your fitness metrics on the enhanced Always-On Retina display. You can even set a bedtime routine and track your sleep. 
Coolest feature: Measure your blood oxygen with a new sensor and the Blood Oxygen app. Take an electrocardiogram from your wrist at any time with the ECG app.
Best for: Women and men who like to pay attention to their health stats as part of their overall fitness goals.
The Fitbit Sense is Fitbit's first-ever advanced health smartwatch. Learn how to understand your body's response to stress, get a heart rhythm assessment and use the skin temperature sensor to keep an eye on trends. Use on-wrist and in-app stress management tools to track stress so you can start living a healthier life. 
Coolest feature: The Fitbit Sense tracks daily activities like steps, distance, Active Zone Minutes and calories burned. You can use the built-in GPS to monitor your pace and distance and then see a map of your workout in the Fitbit app.
Best for: Anyone who wants to tackle their fitness goal and keep track of their health stats with a stylish fitness tracker.
With so many options available to help track your fitness and health, you can feel confident knowing there is a smartwatch for your unique needs. Didn't see exactly what you need in this article? Check the other smartwatches Verizon has to offer plus other accessories to aid in your fitness journey.
This content is provided for information purposes only. All information included herein is subject to change without notice. Verizon is not responsible for any direct or indirect damages, arising from or related to use of or reliance on the above content.