How to choose the right Fitbit fitness tracker
Fitbit choices for fitness-minded shoppers looking to try a wearable tracker.
Whether you hit the weights every morning or want to make good on a New Year's resolution, you'll know that fitness trackers have become indispensable workout tools. The wearable devices are a common sight in gyms, on running paths and even in the office. Fitbit has achieved the neat trick of becoming synonymous with these gadgets—and for good reason. It began with tracking users' steps and calorie intake, then added in functionality like heart-rate monitoring and workout recording. Nowadays, select models can also pair with your phone to receive texts, emails and, in some cases, let you take calls hands-free.
But as the popularity of Fitbits has exploded, so too has the brand's model line. 
How to tell which Fitbit is right for you? Here are three choices for people looking to take their connected workout to the next level.
Fitbit Inspire 2: A great starting point.
This makes a great first wearable fitness tracker for those new to Fitbit. Fitbit Inspire 2 provides all of the basic functionality that users expect from the first-gen FitbBit Inspire; it will count steps, measure distance, keep tabs of calories and active minutes, monitor heart rate and track sleep. But this wearable really earns fans with its smartphone-pairing ability. Now, users can receive notifications about text, calls, social media and calendar alerts. It automatically connects to 200+ Android, iOS and Windows 10 devices for any easy way to wirelessly sync. The bands are also interchangeable, so they can be matched to outfits.
Fitness data from the Inspire 2 is straightforward but robust enough to be motivating. "Over a week, I became a little addicted to Fitbit again, wanting to get my steps up, trying to pay attention to the move reminders, actually checking the app every now and then to see how I slept or what my resting heart rate was that morning," writes The Verge. And at just $99.99, the Fitbit Inspire 2 is among the most complete trackers for the price.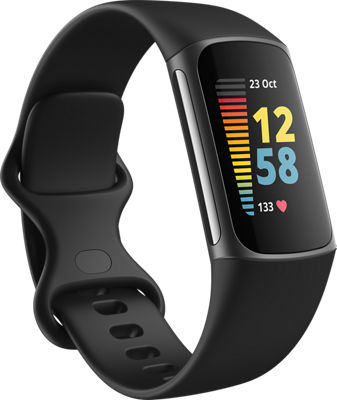 Fitbit Charge 5 Heart Rate and Fitness Wristband: The data obsessive tracker.
Though some users may be satisfied with just the expected data from their workouts, others want more—much more. For these users, there's the Fitbit Charge 5. It may look similar to Fitbits that have come before like the Fitbit Charge 4 and Charge 3, but next-gen features make it irresistible to data-obsessed fitness buffs.
In addition to the traditional Fitbit functionality, the Charge 5 offers a GPS feature that's perfect for mapping your running or cycling routes. There's also guided breathing sessions and a personalized cardio fitness score. 
The Fitbit Sense and Fitbit Versa 2: The fitness-focused smartwatches.
The Fitbit Sense and Fitbit Versa 2 immediately distinguish themselves from the rest of the Fitbit family by looking like—and replicating much of the functionality of—smartwatches. While both provide a wide, colorful screen and Fitbit's signature interchangeable bands, they really are geared toward two types of users.
The impressive Sense, complete with an EDA Scan app and Fitbit ECG app, is like a premium digital fitness coach, offering GPS tracking and customized video workouts delivered right to your wrist. It can also receive incoming texts and call alerts, and users can control their music remotely from the watch face.
The Versa 2, meanwhile, takes a more straightforward approach to fitness tracking, with a no-nonsense aluminum case and big, bright display. It also can receive texts and alerts, as well as stream music, with easy smartphone integration and intuitive tracking—all at a competitive price point. 
There are plenty of options to choose from and luckily, Verizon has you covered. Check out our full selection of fitness trackers today to find your perfect fit, and be sure to visit our wearable tech page as well.
This content is provided for information purposes only. All information included herein is subject to change without notice. Verizon is not responsible for any direct or indirect damages, arising from or related to use or reliance of the above content.