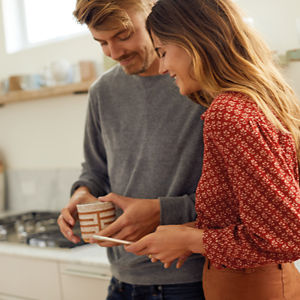 If you like to customize your devices, for example, Android might be right for you. You can personalize your Android device's Home page with live wallpapers and widgets. If you're a Google fan (with products including Gmail, Google Maps and Google Chrome web browser), then Android is the operating system that you would likely feel most comfortable with. Choosing an Android phone with all the bells and whistles won't be difficult, check out the Samsung Galaxy S20 Ultra 5G. This 5G phone uses Verizon's ultra-fast, Ultra-Wideband network to stream, game and share at lightning speed.
If simplicity is what you're looking for then search no further than the streamlined iOS experience. Apple has some of the most advanced, easy-to-use phones available and they release newer, better, bolder versions every year so there are plenty of models to choose from. The new iPhone 11 Pro Max is designed with all of the features that are on your wishlist, and probably a few you didn't even know you couldn't live without. If you were previously using an iPhone, or have a Mac as your main computer, upgrading to the latest iPhone might be in your favor. Plus, you can't beat the color choices.
Take your phone to the next level.
No matter the reason for upgrading your phone, the process is an easy one. Take advantage of the opportunity to pick up a new phone with all the bells and whistles, all at Verizon, America's most awarded network.