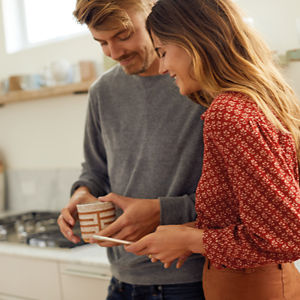 If you need Internet access for another device, such as a laptop, and you're not sure how secure the local Wi-Fi network is, you can take advantage of Verizon's secure network using your smartphone or tablet. Activate Verizon's mobile hotspot function in your phone's settings, and it becomes a Wi-Fi router. When you use your device as a mobile hotspot, all the other devices accessing the Internet through it use your mobile data plan.
When you're streaming lots of movies and music to your tablet or engaging in other data-heavy activities, it makes sense to use Wi-Fi, so long as it's available and trustworthy. But if you're checking work email or balancing your checkbook on the road, consider turning off Wi-Fi and using your data plan to protect your privacy.
The Future is 5G.
Cellular speeds don't stop at 4G LTE. Verizon is the leader in 5G and has already begun deploying its network around the world. This lightning-fast network unlocks a number of new possibilities for mobile networks - including some ultra-fast 5G phones. Be the first to get your hands on 5G and take advantage of the most awarded network.
Know the difference.
Learning the difference between Wi-Fi data and cellular data helps you better manage your overall data usage. Plus, when you're making your next tablet purchase, you'll have a keener understanding of which version you need—Wi-Fi or Wi-Fi + Cellular Data.