Due to inactivity, your session will end in approximately 2 minutes. Extend your session by clicking OK below.
Due to inactivity, your session has expired. Please sign in again to continue.
Moto Z Droid Edition and Moto Z Force Droid Edition Software Update
Verizon Wireless is pleased to announce a software update for your device. This software update has been tested to optimize device performance, resolve known issues and apply the latest security patches.

Before you download:

Connect your device to a Wi-Fi network, or make sure it has a strong Verizon Wireless network connection.
Ensure your battery is fully charged before starting the software update.
System Update Instructions
If you received a notification message for this software update:

Tap Yes, I'm in to start downloading the software update.


Once the software update has finished downloading, Tap Install now.


Your phone will restart automatically after the install.

You've successfully updated your phone.

If you didn't receive a notification message for this software update, follow the steps below to manually update your phone:

Tap the Settings icon in the apps menu.


Tap About phone.


Tap System updates.


Tap Yes, I'm in to start downloading the software update.


Once the software update has finished, tap Install now.


Your phone will restart automatically after the install.

You've successfully updated your phone.

If you don't have a strong connection to Wi-Fi or the Verizon Wireless network, you may not be able to perform a software update over the air. Instead, you can connect your device to a computer with Internet access. Connect your device to your computer using your USB cable, then download the Software Upgrade / Repair Assistant tool to your computer, which will check for software updates and initiate the software update process.
System Update 14
Software Version: OCL27.76-69-4
Android Security Patch Level: 2018-05-01

This software update features:
Latest Android security patches
Improved Wi-Fi connectivity
You no longer have to restart your phone when replacing a non-Verizon SIM with a Verizon SIM
Productivity
Picture in Picture (PIP): A new split-screen window lets you use an app and watch a video at the same time.
Autofill framework: With your permission, Autofill works together with Moto Key to avoid repeatedly entering the same information on a touchscreen keyboard. Securely stores your data.
Smart text selection: When you select text, Android Oreo suggests relevant apps or intelligent actions. Select and double tap the correct portion of the text and automatically get names, addresses, phone numbers, web links and emails.
Adaptive icons: Multi-shape app icons according to your system settings.
Device performance
Apps run faster and smoother: New optimization provides improved performance of apps and games.
Bluetooth audio enhancements: High quality Bluetooth audio codecs make your music sound even better.
Better management of cached data: Every app has cache data limit. As the system needs to free up memory, it automatically deletes cached data from apps exceeding their limit.
Battery-saving background restrictions: Android Oreo improves battery and memory optimization. Built on Nougat's battery life improvements, it's a power saving feature in addition to "Doze," which limits how often apps in background check location, scans Wi-Fi networks or accesses data.
Stability improvements: Bugs and improved device stability.
Notifications
Notification badges / dots: Oreo now provides "Unread" badges on top of home screen icons. Tap and hold an icon to get notification of what's new, and clear them by swiping left.
Notification channels: Now you have more control over notifications. Apps have named notification categories. You can choose to receive notifications about specific topics.
Snooze notifications: You can "snooze" notifications instead of dismissing them. They'll pop back up at the same level of importance.
Notification bar: App icons are listed in the bar in hierarchical and more organized ways.
Themed Notifications based on music cover art: You can customize background and text themes are customized in Notifications list and Lockscreen.
Calling Features
Incoming Call: New layout, with a smaller contact image.
Locked Mode
Unlocked Mode - DECLINE and ANSWER call icons are red and green.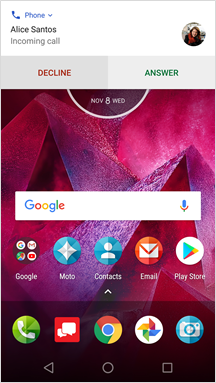 Active Call: Changes in the User Interface to improve usability.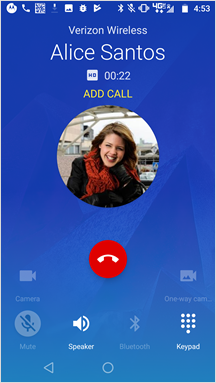 Rejecting Call: Answer calls by swiping up on the screen. Swiping down rejects the call (replaces the Answer and Ignore icons).


Swiping up on the message icon (bottom left of the screen) opens a pop-up screen, letting you send a text message to the call originator.

Select one of the canned text options or write your own to send a text message and reject the call.
Security
Easier to find security update information: The date of your most recent security update is available in Settings > Security & location.
Google Play Protect: New Google Play™ Store security feature provides a visual display of app security scans and optimizes security by scanning apps for malware and viruses.
Find My Device: (formerly Android Device Manager) Remotely locate, lock or erase your device if it's lost or stolen. Find my Device has a new user interface, performance improvements and bug fixes.
"Unknown Sources" setting removed: On Android Oreo, you no longer need to choose "OK to install apps from unknown sources". Make sure you trust individual apps before installing them, then review and authorize each app.
Usability
Quick settings improvements: Network, Connectivity and Battery indicators are at the top of the screen. Settings, Time, and Profile are now at the bottom.
Quick settings toggles: Tiles act like a toggle to show more information. Tap the tile to turn on or off. Touch and hold to bring up Settings or tap the text to open the panel.
Improved settings navigation: Find the right setting faster. Shorter, reorganized and easier to navigate.
Redesigned Battery and Storage menu: Improved visibility and easier to read.
App info / widgets: Easy access to app information. Just tap and hold icons on the Home screen, apps menu and Widgets list.
Deep color: Wider range of colors in apps. Supports full color management, allowing apps to display images in their native format and quality.
New and updated emoji: Do you speak fluent Emoji? Bring your words to life with all-new emojis, including redesigned human emojis with rounded and gradient shapes.
New Phone / Call functions user interface: Redesigned user interface is cleaner and more organized.
Accessibility
Accessibility shortcut: Provides quick access to Accessibility features.
Accessibility volume: Adjust the Accessibility volume level on TalkBack separately from media volume level.

Updated: 06/18/2018
Next steps and additional links
Please allow additional time for the apps on your device to continue to download after the software update.
DROID is a trademark of Lucasfilm, Ltd. and its related companies. Used under license.
Android is a trademark of Google, Inc.